Special Education Math Curriculum | Primary SPED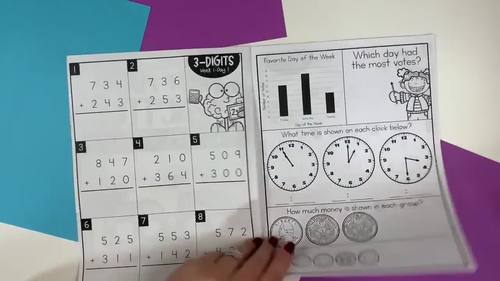 ;
Also included in
As a resource room teacher, you don't have the time to create a Tier 3 Math intervention. But you still need something to help you survive those special education math groups!  You're so busy juggling all the responsibilities of a SPED teacher that your kids aren't getting exactly what you KNOW they

Price $108.60

Original Price $215.00

Save $106.40
Description
Do you struggle to balance math intervention with grade level work? This math intervention helps me tackle my students' IEP goals quickly every day. 
Every year, I have students who are working to tackle addition and subtraction with regrouping. These are important skills that take a lot of practice for our students with disabilities. 
I used to give my students a notebook with their name on it. 
We'd spend our precious time together copying problems from my dry erase board into their notebook. 
I swear we spent more time copying from the board than we did solving problems. 
Later, I decided that I would copy worksheets from the internet to save us time. 
It did, but then I was just creating this hodge-podge stack of worksheets that we tackled one at a time. 
I didn't have a routine or a sequence that made sense. 
I was also spending a lot of time searching all corners of the internet for "free printable worksheets" to fill my time. 
And I NEVER had time to practice grade level skills. We were too busy copying problems from my board. 
Does this sound familiar to you too? 
Wouldn't it be great if there were an intervention that: 
started simple and slowly grew more difficult?
took time to practice other skills that students need to master?
could be completed in 20-30 minutes per day?
Well, guess what, my friend? 
That's exactly what I created.
I am no longer wasting time having my students copy from the board or completing a stack of worksheets. 
Instead, I'm seeing my kids master addition and subtraction with daily practice in an order that makes sense. 
Other special education teachers love this math intervention too! 
"What an amazing resource that helps my students to retain their math skills.  It is very predictable, and my students actually look forward to this as their daily morning routine." -Michelle
"My students love the routine of these intervention packets. They know what to expect and feel successful!" -Bridget
Here's exactly what you get:
40 weeks of printable booklets to practice addition and subtraction both with and without regrouping. 
40 weeks of printable lesson plans to help you plan quickly and know exactly what skills you are targeting. 
The peace of mind that your students are growing more than ever before WITHOUT hours of planning.
Report this resource to TPT