Special Education Must-Have Forms and Templates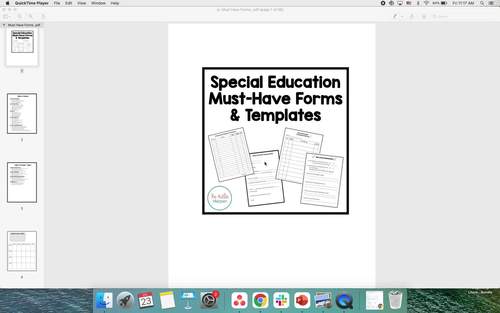 ;
What educators are saying
Such a great resource for teachers who may need a form but not know exactly how to create their own. Also great to just quickly print something up!
If you are an autism teacher you NEED this. So helpful and she has thought of everything you could of possibly needed.
Description
*Updated with previous forms given a face-lift and new additional forms!*
Get organized and stay organized! Let this packet of forms and templates get you ready to tackle the new school year and keep you organized all year long! Organization is the KEY to running a successful classroom. This resource contains over 50 forms, templates, and sample letters. These sheets will organize your IEP data, parent communication, lesson plans, sub plans, and more!
All forms are in both PDF and Powerpoint format so you can edit if you would like!
Included Pages:
- group lesson plan
- static station lesson plan
- changing stations lesson plan
- curriculum map
- unit planning forms
- meet the teacher template
- start of year questionnaire
- life skills rating form
- hygiene permission form
- volunteer interest form
- sample supply list
- sample welcome letter
- five and five strengths and struggles
- IEP goal planning form
- IEP reminder form
- IEP data sheet
- IEP check in progress report form
- IEP meeting notes
- transportation routines
- allergy alert
- allergy alert door sign
- reinforcer list
- birthday chart
- emergency procedures
- evacuation plan
- detailed emergency details
- parent/guardian communication log
- request for parent/guardian meeting form
- parent/guardian meeting notes
- monthly newsletter template
- parent teacher conferences sign up form
- parent teacher conference appointment reminder
- therapist collaboration log
- reading level tracking form
- assessment tracking log
- student equipment reference sheet
- passwords at a glance logs
- professional development tracking form
- weekly to do list
- monthly to do list
- quarterly to do list
- detailed paraprofessional schedule
- field trip/event announcement
- field trip reminder note
- field trip chaperone sign-up form
- class party note and invitation
- class party material donation sign-up
- sample substitute plan letter
- classroom quick info sheet
- substitute mini-schedule
If you like this product, be sure to check out these:
The Most Space Efficient & Organized Work Task System
Seven Steps for Setting Up a Stellar Autism Room {CHECKLIST}
For more resources, tips, and materials to help you help children with autism please visit The Autism Helper
Report this resource to TPT