Special Education Reading Intervention for Tier 3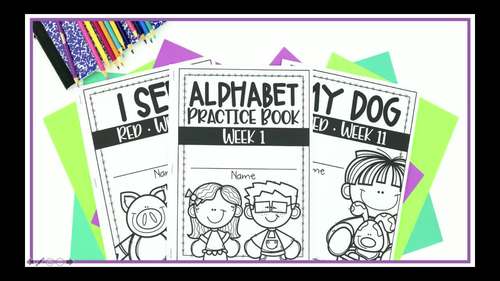 ;
Products in this Bundle (6)
showing 1-5 of 6 products
Description
Are you struggling to find a Tier 3 reading intervention that you can use for RTI or in your resource room? Same, girl, same! I wanted one intervention that could target decoding, sight words, reading comprehension, reading fluency, writing, and grammar. My resource room students needed more than what I had to offer them.
I've attended fancy trainings where they suggest spending 45 minutes per day on Tier 3 interventions that only targeted decoding skills. I couldn't implement that in real life. I only had 30 minutes for each of my reading intervention groups, and I needed to cover more than just decoding. 
I desperately needed a better reading intervention for my special education students. 
My students weren't making adequate progress on their IEP goals in multiple areas of reading.
Imagine if you could: 
Save Hours Scouring the Internet for Reading Interventions for your Students
Avoid Working Nights and Weekends
Have a Trusted Routine
See Your Students Master Reading Intervention Goals
And what if, you could accomplish all of those things with very little prep time?
My fellow special education teachers were also searching for something to use in their resource rooms. They needed Tier 3 interventions that would accelerate progress on their IEP goals. Whether you call yourself a resource room teacher, EC teacher, or an intervention specialist, you don't have time to scour the internet for trainings, lesson plans, and activities for your weekly intervention groups. 
Instead, you need easy to print, engaging activities that are so routine, your resource room kids will know exactly what to do. Plus, they'll grow leaps and bounds throughout the school year. You'll look like a Reading Intervention Superstar! ⭐️
Several years ago, I spent my nights and weekends making lesson plans. I was Frankenstein-ing together interventions from here, there, and everywhere. I often hopped from this skill to that skill. I wasn't consistent and it showed. I was also making my life 10x harder than it needed to be. My family and mental health were suffering. 
That wasn't ok with me. Something had to change. 
I begin each school year by assessing the special education students on my caseload. 
I group them according to their decoding needs. 
I match a reading intervention to the decoding skills that I plan to target with them. 
I make copies, and I'm ready! 
Each day, we follow the routine in the book. 
It's that simple.
My Tier 3 interventions are easy and effective! 
I'm not the only Special Education Teacher who has accelerated their  students' IEP goal progress: 
Kristyn can't endorse the Special Education Reading Intervention Resource enough! 
"I just purchased this resource and just had to dive right in. I printed out some of the lessons and had my kids start this past week. I LOVE IT! THEY LOVE IT! It is so comprehensive and so easy to use. My kids feel empowered as they can tackle the information they are reading and the questions they need to answer. They also loved taking home their first packet to show their families! I can't endorse this resource enough!! It's great!"
Hope uses this the Special Education Reading Intervention to save time! 
"Amazing product!!! I can't say enough wonderful things about these resources. They are wonderfully done and pleasing to the eye. They have helped me tremendously!!! I no longer have to spend long hours trying to find materials to use with my students. Everything is already done for me! Thanks so much for making this product!"
Ashley thinks this Tier 3 Intervention is heaven sent! 
"The guided reading resources is straight from the heavens! Finding an appropriate curriculum for my SPED students can be so hard. The Primary Gal has made this so easy to prep and deliver instruction to students! I am so thankful for this resource and can't wait to explore more from The Primary Gal!"
Here's Exactly What You Get with the Resource Room Reading Intervention
Four Levels of Intervention to help you target the exact IEP goals that you will be working to accomplish. 
Lesson Plans that outline the exact skills that your students need. The only thing you'll need to do is to print them, throw them on a clipboard, and go!
Weekly Booklets that cover the important skills that your students need. You'll be able to confidently deliver lessons that help your students master their IEP goals. 
Weekly Reading Tests to help your students feel successful and take tests on skills that they are working to master. 
Pre-Written IEP Goals to match each level of the reading intervention. You'll save time and be able to show exactly what your students are working to master. 
Do you want instant access to a year of peace, knowing that your students will accomplish their IEP goals and you can take your life back? Add this year long, sanity saving bundle to your cart!
Teaching Duration
3 months
Report this resource to TPT