Special Interest Basic Concepts Preposition Activity BUNDLE!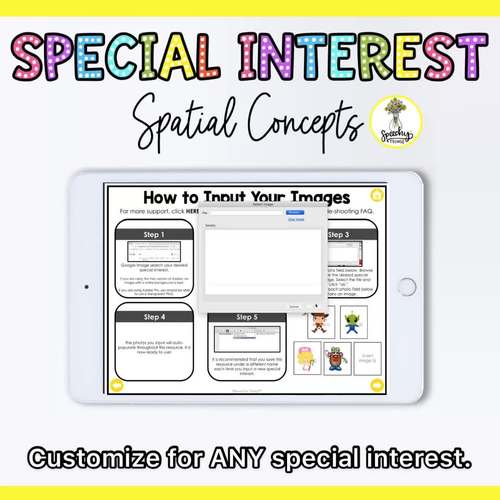 ;
What educators are saying
I love this bundle and will use it often with my students. I also have ideas to use it with some of my artic kiddos! Thank you for this amazing material!
I love how it's made targeting these schools so much easier! Kids are much more engaged seeing their favorite characters throughout.
Products in this Bundle (4)
Description
It is impossible to find resources for every unique special interest your students have... or is it? Special Interest Spatial Concepts allows you to "plug in" any 5 images of your choice (from google or your computer) and customize to ANY special interest! You will be amazed at how engaged your students are once they see their favorite characters, family members, or objects move around these no-print scenes. To keep the practice going, you can also send home homework pages with their 5 chosen images! This resource makes it so easy to keep your students engaged in your session! Designed for Autistic students but works perfectly for your entire caseload!
***This bundle is discounted an additional 30% for the first 24 hours to celebrate its launch! The regular price will be set at $39. There are no plans to discount it this deeply ever again. Don't miss this opportunity!***
⇨ This resource is A BUNDLE! For more details on what is included in each resource, please click on the individual product listings below. As of now, there are no plans for this to be a growing bundle. However, any updates or additions will be FREE to those who have already purchased!

☞ Please Read Before Purchasing ☜
It is strongly recommended that you open this resource in Adobe Acrobat to ensure it works properly. The link to download it for free is included on the instruction page in the resource.

If for any reason you need help trouble-shooting, visiting this FAQ will be the quickest way to get you up and running!

Some devices (tablets in particular) seem to have difficulty with the navigation arrows. If this is the case, you may need to scroll to the next page or use keyboard arrows. I am working on a solution for this. You can always check back in your "my purchases" for updates to any TpT purchase. I will also announce updates/notices to re-download to my waitlist and Instagram stories. You should not have this issue on a laptop if you are using the most up-to-date version of Adobe Acrobat.

This download does not include any sets of images for you to input. You will need to use images from your own device. They may be any jpeg or png file that you have made/taken yourself or found on the internet. Please also note that some people report that png works best.

⇨ WHAT'S INCLUDED ⇦
● Bundle Overview
PDF download of Special Interest Spatial Concepts: In & Out
PDF download of Special Interest Spatial Concepts: On, Above, & Under
PDF download of Special Interest Spatial Concepts: Behind & In Front
PDF download of Special Interest Spatial Concepts: Next To & Between
● Each Resource Includes
Teaching Sections: 1 page per spatial concept
Receptive: 100+ practice trials
Expressive: 100+ practice scenes
Generalization: 32+ mixed concept practice scenes (receptive and expressive), and 8 open-ended scenes
Homework: 12+ printable worksheets/activities for receptive & expressive practice
⇨ IDEAS FOR USE ⇦
family members
movie/TV characters
favorite animals
words containing a target sound
holidays
ANYTHING your student is passionate about
Let your student choose!




○○○○○○○○○○○○○○○○○○○○○○○○○○○○○○○○○○○○○○○○○○○○○○

SIMILAR RESOURCES
● This resource is part of the Special Interest Speech and Language product line. You can find more HERE.
● Interactive Songbooks of popular children's songs


○○○○○○○○○○○○○○○○○○○○○○○○○○○○○○○○○○○○○○○○○○○○○○
CUSTOMER TIPS
○ Push the green star! Follow my store to see new resources up to 50% off!
○ TpT Credits: Review purchased products to get credits toward your next purchase
○ If you have a question or issue, you can email me at lindsey@speechythings.com or leave a Question in my store. It is important to me that you are happy with your purchases!

○○○○○○○○○○○○○○○○○○○○○○○○○○○○○○○○○○○○○○○○○○○○○○

COME SAY HI!
● VIP Emails : Get access to my freebie library, exclusive deals, and therapy tips!
● Instagram : I'm here most often – therapy ideas, Q&A's, and daily life!
● Blog : Find helpful ideas and reviews for your therapy room!

● Youtube ● Pinterest ● Facebook ●

○○○○○○○○○○○○○○○○○○○○○○○○○○○○○○○○○○○○○○○○○○○○○○

This resource is copyrighted by Lindsey Hockel, MS, CCC-SLP, owner of ©Speechy Things™ . Purchase of this item is intended for use by a single customer and is not to be shared with other professionals. If someone is interested in this resource, please direct them to my store. You are, however, welcome and encouraged to send pages home with students as needed. Thank you for your support and understanding!
Report this resource to TPT