Speech Cities Articulation Activity BOOM CARDS™ No Print Teletherapy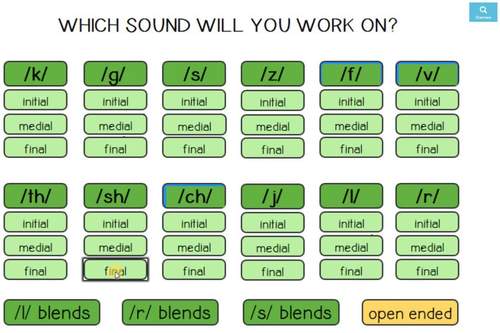 ;
the PDF links to a Boom Card deck of 41 cards
Compatible with Digital Devices
The Teacher-Author has indicated that this resource can be used for device-based learning.
What educators are saying
These are great to use during transportation week or any student that loves cars. I am also able to target following directions and basic concepts. Great Boom deck, thanks for creating this.
Love this resource. Great for speech goals, giving instructions, following instructions, describing, teaching position concepts and more.
Also included in
This BUNDLE currently contains 10 similar articulation/speech BOOM CARD activities, each with a different theme (ocean, city map, snowmen, garden, ice cream sundae, pirates, dinosaurs, carnivals, farm animals, and space). For each deck, the student will practice their target speech sound in words wh

Price $40.00

Original Price $50.00

Save $10.00
Description
This deck of BOOM CARDS™ contains 41 cards targeting articulation while building a city map using the drag and drop feature of Boom Cards™. Each of the 39 cards has 12 buildings/cars to drag and drop onto the blank map in the middle of the card. As the student drags a part to the middle, the target word will be uncovered for them to say by itself or in a phrase or sentence. Each word position has its own separate card. The following sounds are included:
Initial, Medial, and Final: k, g, s, z, f, v, th, sh, c, j, l, r,
l-blends, r-blends, s-blends
At the end of the deck there is a BONUS card (Card 41) for open-ended activities. It includes a map and buildings/cars for the student to choose from. There are no target words included on this page, so you can use the card to target:
▶ Giving and following directions
▶ Describing where the buildings and cars are on the map
▶ "adjective + noun" such as "purple house"
▶ Asking and answering "where" questions
There is a menu page (Card 1) where you can click on the sound/word position that you want to target and go right to that card.
★ Check out the PREVIEW for a link to a free playable preview of the deck!
Check out this resource in a MONEY SAVING BUNDLE:
BOOM CARDS™ Speech Activity BUNDLE
Are you new to Boom Cards? Check out this BLOG POST and this FREE VIDEO to learn more!
ABOUT BOOM CARDS
To use Boom Cards, you must be connected to the Internet. Boom Cards play on modern browsers (Chrome, Safari, Firefox, and Edge). Apps are available for modern Android, iPads, iPhones, and Kindle Fires. For security and privacy, adults must have a Boom Learning account to use and assign Boom Cards. You will be able to assign the Boom Cards you are buying with "Fast Pins," (a form of play that gives instant feedback to students for self-grading Boom Cards). For assignment options that report student progress back to you, you will need to purchase a premium account. If you are new to Boom Learning, you will be offered a free trial of our premium account. Read here for details: http://bit.ly/BoomTrial.
You may be eligible for a free trial from Boom Learning. Read here for details: http://bit.ly/BoomTrial. If you choose not to stay on a premium account after your free trial, you will still be able to assign all your Boom Cards to as many students as you see fit using Fast Play pins (which give instant feedback for decks that are self-grading). You will not be charged when your free trial expires.
Boom Learning and Boom Cards are the trademarks of Boom Learning Inc. Used with permission.
Total Pages
the PDF links to a Boom Card deck of 41 cards
Report this resource to TPT