Speech Sound Posters: Articulation Posters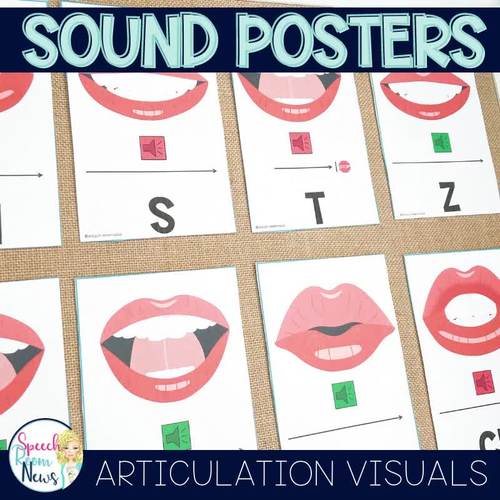 ;
What educators are saying
I love these visuals! I've printed them off into a mini format to use with my students as cues. Very clear and helpful for younger students too.
LOVE this resource! This is ideal to place above my alphabet line to distinguish letters vs. sounds. Couldn't be happier! :)
Also included in
Starting a new clinic or school job? This is the bundle for you! This 'essentials' download cover all the basics you need to get started (or just to refresh your materials). The bundle price reflects a 20% discount! To read the details for each resource, please visit each individual listing:

Price $63.99

Original Price $79.99

Save $16.00
Description
This download includes 20 half-sheet posters that provide a visual reference for articulation practice. They can also be made into a student booklet. The download includes drawn images of a mouth for the following sounds:
K,G,S,Z,F,V,SH,CH,TH,
R,M,N,P,B,T,D,L,W,J,H
Each poster includes the common letter associated with the sound, a visual for voiced/voiceless and stop/continuant. The sounds M and N have an additional image to indicate a nasal sound.
Three versions are included. One is regular, as listed above. One included a thought bubble with a sound cue (ie: train for 'ch', snake for 's'). The third set includes a blank thought bubble to draw or write your own sound cue.
You likely only need to print ONE version. Do what works for you!
Two ways to make them work:
Posters: Print and laminate each page. Cut around black boxes to create half-sheet posters. Place where students can use as a visual reference.
Student Booklet: To make an individual booklet for your student to keep in their speech folder or take home, print each page including the title cover on page 2. Staple the pages together to make a booklet.
This product pairs perfectly with the Speech Sound Articulation Cards that use the same visual prompts.
About the Author:
Jenna Rayburn Kirk, MA, CCC-SLP is an ASHA certified Speech-Language Pathologist. She works full time as a school SLP in Ohio. Jenna was an invited speaker at the American Speech and Hearing Association Convention in 2016. She's presented at the national, state, and local level about a variety of topics related to school-based speech and language therapy. Jenna has created over 400 resources for her fellow SLPs and is the number one SLP seller on TpT.
Report this resource to TPT