Speech Sound Visual Cue Cards for Speech Therapy l Articulation Phono Apraxia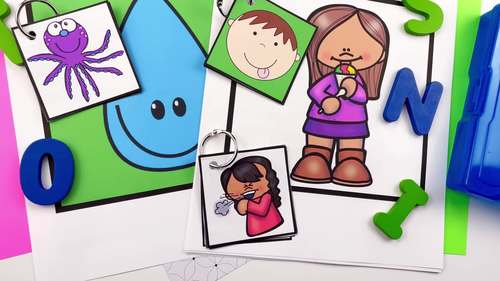 ;
What educators are saying
Love these cards. Graphics are cute and engaging for kids. Helpful reminders for cueing for speech sounds.
Love this resource! Students respond well with these cards and enjoy the graphics. Definitely worth the purchase.
Also included in
Use this HUGE bundle of Visuals to support your preschool and kindergarten students with behaviour, articulation, phonology, prosody, wh questions, following directions, describing, categorization, vocabulary, grammar and more! These visual cue cards can be used with ANY book, song, activity, craft

Price $18.99

Original Price $23.74

Save $4.75

Digital play-based speech and language activities and time-saving resources that you can use with ANY STUDENT on your preschool therapy caseload! This bundle is designed for DISTANCE LEARNING, but all of the resources can be used during in-person sessions.This is a MEGA bundle, which means it includ

Price $148.75

Original Price $185.94

Save $37.19

**FLASH SALE** This bundle is marked down 33% for the first 20 SLPs ONLY (There are currently EIGHT left for grabs) Whether you are a new or experienced Preschool SLP you will find yourself grabbing for these Speech and Language Therapy Resources regularly! This combination of speech therapy assess

Price $99.00

Original Price $150.47

Save $51.47
Description
Provide your students with verbal, visual, tactile, and metacognitive cues during your speech therapy sessions by using these speech sound cues cards. Help your students with Apraxia of Speech, Articulation Disorders, and Phonological Delays!
Using consistent cues can help your preschool and kindergarten students learn new consonant and vowel sounds. Each of the 38 cards (22 Consonants and 16 Vowels) includes a nickname, a placement cue, a hand cue, and a picture cue.
These bright and colourful cards can be can be printed DOUBLE SIDED. When the adult is holding up the card, the child sees the picture cue, while the adult sees the 'cheat sheet' of cues.
The cards can be used by SLPs, parents, teachers, and assistants! SLPs can send a copy home to promote consistency between home and school.
Each sound includes:
A name for the sound (e.g. The 'k' sound is the "Coughing Sound")
Placement Cue (A child friendly description of what our mouth should be doing to make the sound)
Hand Cue (A gesture used to cue the child to use the correct sound)
Picture Cue (A picture that corresponds with the name of the sound)
There are SIX printing options, to suit your specific needs:
Version One: Full Page Consonants with Coloured Background
Version Two: Full Page Consonants with White Background and updated clipart (the clipart is NOT the same as the coloured version)
Version Three: Full Page Vowels with White Background
Version Four: Cue Card Size Consonants with Colored Background
Version Five: Cue Card Size Consonants with White Background
Version Six: Cue Card Size Vowels with White Background
22 Consonants Sounds are included:
p, b, t, d, k, g, f, v, sh, ch, j, h, w, y, l, r, m, n, s, z, th, th
16 Vowels are included.
Need some therapy ideas for these cards? Check out this blog post!
Save 20% by purchasing the money-saving visuals bundle.
If you have questions, please contact me at annadeeslp@gmail.com.
Let's Connect!
FOLLOW MY TPT STORE: Click "Follow Me" on my Store Page. I send alerts with sales and any new freebies that have been posted!
CHECK OUT MY INSTAGRAM for product demos, play therapy ideas and all things speech related.
FOLLOW ME ON FACEBOOK for articles and my favourite online resources.
READ MY BLOG to learn more about play-based speech therapy!
Report this resource to TPT