Speech Therapy Boom Cards l Language Processing Skills Data Collection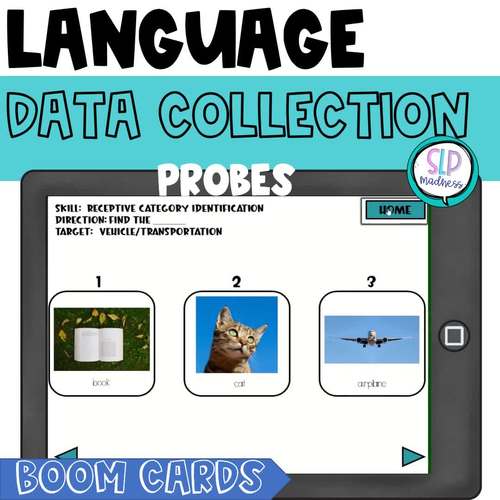 ;
Compatible with Digital Devices
The Teacher-Author has indicated that this resource can be used for device-based learning.
What educators are saying
This resource was great for completing quick screenings and assessing skills at progress reporting time.
Also included in
CUSTOM BUNDLE FOR EK 7-29-21This is a custom bundle designed for a buyer by a buyer. The more you buy the more you save.Check out details HERE on how to create your own.☀☀☀☀☀LET'S CONNECTSubscribe for follower freebies at slpmadness.com☀☀☀☀☀Follow me on Instagram , Facebook , Pinterest☀☀☀☀☀Follow m

Price $55.28

Original Price $69.10

Save $13.82
Description
The digital, no prep boom card language screening and evaluation collects data for language processing and vocabulary skills to evaluate receptive and expressive categories, similarities and differences, and what does not belong with 10 speech therapy IEP data collection probes.
Are you struggling to find ways to assess and screen students in speech therapy? Are you looking for a digital language assessment tool that you can use for screening, IEP baselines, and data collection on goals? Look no further!
These assessment boom cards will measure language skills in a consistent way. No more collecting data while teaching. This is a must-have for any speech therapist or special education teacher monitoring language progress.
Use these probes as your baseline and then readminister to measure progress in a CLEAN way. No more collecting data while teaching. This is a must-have for any speech therapist or special education teacher monitoring language progress.
WHAT'S INCLUDED:
receptive category identification
expressive category labeling
what does not belong
similarities
differences
different probes by field size, comparing/contrasting by category, function, and/or function/feature.
REASONS YOU NEED THIS AMAZING PRODUCT:
Time Saver - NO PREP!
It's Common Core Aligned!
IEP Assessment using a consistent, legally defensible way
Clear data = clear IEP goals and objectives
Establish baselines with ease
Streamlines assessment
Data collection will be accurate
HOW TO USE THIS RESOURCE:
IEP goal data progress monitoring
IEP baselines
Present Level Reporting
Language Screening
Dynamic Assessment
MTSS - RTI Models
Legally Defensible data

⭐⭐
☀ Speech Therapy Data Collection Sequencing Verb Tenses Narratives Language Probes
☀ No Print Speech Therapy Data Collection Language Assessment Probes Digital
☀ Expressive Prepositions Boom Cards Language Assessment Probe Speech Therapy
Follow my STORE for more amazing products!
LET'S CONNECT
Become a VIP at slpmadness.com to receive exclusive freebies and emails
Remember to leave feedback on your purchases for TpT credits so you can earn credits towards future purchases.
I would love to see you using my products in action. If you post on IG, be sure to tag me.
Must have boom learning account and internet access to use. Access activity set through a link on PDF download. No additional pdf or digital activity is included.
To use Boom Cards, you must be connected to the Internet. Boom Cards play on modern browsers (Chrome, Safari, Firefox, and Edge). Apps are available for modern Android, iPads, iPhones, and Kindle Fires. For security and privacy, adults must have a Boom Learning account to use and assign Boom Cards. You will be able to assign the Boom Cards you are buying with "Fast Pins," (a form of play that gives instant feedback to students for self-grading Boom Cards). For assignment options that report student progress back to you, you will need to purchase a premium account. If you are new to Boom Learning, you will be offered a free trial of our premium account. Readhere for details: http://bit.ly/BoomTrial.
Report this resource to TPT
Standards
to see state-specific standards (only available in the US).
Adapt speech to a variety of contexts and communicative tasks, demonstrating command of formal English when indicated or appropriate.
Apply knowledge of language to understand how language functions in different contexts, to make effective choices for meaning or style, and to comprehend more fully when reading or listening.
Determine or clarify the meaning of unknown and multiple-meaning words and phrases by using context clues, analyzing meaningful word parts, and consulting general and specialized reference materials, as appropriate.