Speech Therapy | R Articulation Activities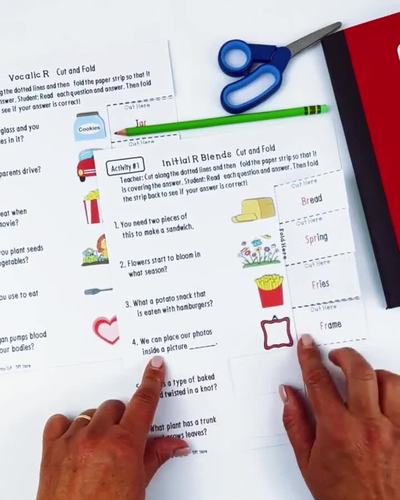 ;
Also included in
This R Articulation Bundle is an excellent tool to work on articulation and language at the same time. Keep your students motivated and engaged during articulation therapy.WHO IT IS FOR• Appropriate for elementary students working on articulation. • SLPs to use during speech therapy.• Most effective

Price $14.50

Original Price $17.00

Save $2.50
Description
Cut and Fold Vocalic R and R Blends is an interactive activity to use with your students. This is a fun and easy way to work on articulation and comprehension at the same time! Perfect for the small group setting or one-on-one.
Teachers cut the strips of paper containing the correct answer.
Students read the question and guess the answer.
Then fold back the slip of paper to see if they're correct.
26 Initial /R Blends/ Questions
Bread, Spring
Fries, Frame
Pretzel, Tree
Breakfast, Drink
Frog, Brownie
Trash, Croissant
Fruit, Dragonfly
Trapeze, Brown Eyes
Ice Cream, Brush
Crab, Brother
Green, Cry
Throw, Grapes
24 /Vocalic R/ Questions
Artist, Bird
Earth, Butterfly
Turtle, Giraffe
Circus, Turkey
Skirt, Alligator
Army, T-Shirt
Jar, Car
Popcorn, Garden
Fork, Heart
Barn, Dinosaur
Sports, Party
Story, Candy Bar
All questions featured in color and black & white
===========================================================================

Please take a minute of your time to leave feedback after purchasing this product and using it in your classroom. You earn one TPT credit for every dollar you spend that can be applied toward future TPT purchases. Also, and be notified when new products are uploaded.

You may also enjoy this Cut and Fold Activity:
You may also enjoy theses Articulation Activities:
Report this resource to TPT