Speech Therapy Toolbox: Speech Sounds & Syllable Shapes Hands on Program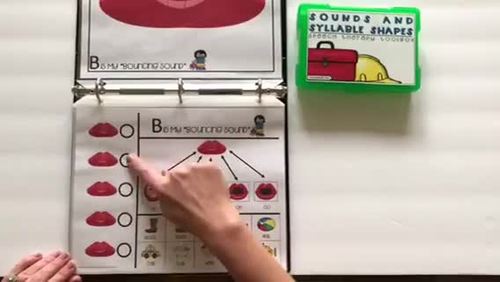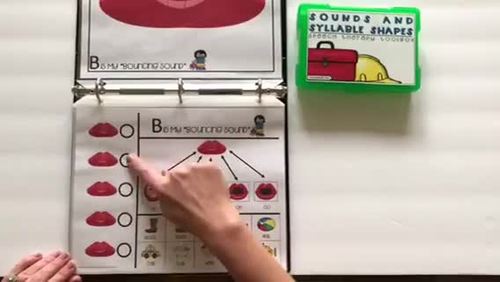 Created By
Texas Speech Mom
Formats
TpT Digital Activity
PDF
 (
28 MB
|
101 pages
)
TpT Digital Activity
Add notes & annotations through an interactive layer and assign to students via Google Classroom.
Learn more
Product Description
A "one-stop-shop" using oversized visuals and easy to understand verbal cues for young children during remediation for articulation, apraxia, and phonological processes. Includes easy to understand Oversized speech mouth visuals, isolation targeted drills, speech sound syllable webs, "act it out" cards, and syllable shape visual drills CV, VC, CVC. This toolbox is perfect for initial and final consonant deletion.
Included:
- 20 oversized speech mouth visual cues: each speech sound has a large speech mouth visual cue and is particularly helpful if your child struggles to look at your mouth during sessions! The mega-sized mouth always gets their attention. 
- 20 "Act It Out" cards with fun names to use as a verbal cue for each sound. They are easy to understand and fun to act out!
- 20 Speech Sound Drill Sheets: target the speech sound in isolation, syllable, and word level all on one sheet. This is also a great warm-up before starting a speech therapy session. The syllable webs target early developing vowels. 
- 13 Syllable Shape Visual Drills: VC, CV, VCV visuals include short and long vowels (which is extremely helpful when working with apraxia or phonological processes of final consonant deletion or initial consonant deletion).
- Sounds included: b, ch, d, f, g, h, j, k, l, m, n, p, r, s, sh, t, th, v, w, z. 
- Print Sizes included: "Binder size" (print-and-go / no prep) or "talk box" size (4x6 low-prep easy travel storage)
View the preview before purchasing, and please email me at texasspeechmom@gmail.com with any questions you might have! 
Click here: You might be interested in some other no prep/print and go activities!
Click here: You might be interested in some articulation activities!
_______________________________________________________________
Let's Stay In Touch!!
IG: @TexasSpeechMom
FB: facebook.com/texasspeechmom
Pinterest: pinterest.com/texasspeechmom
Report this Resource to TpT