Spelling Word Work Bundle (Digital and Printable)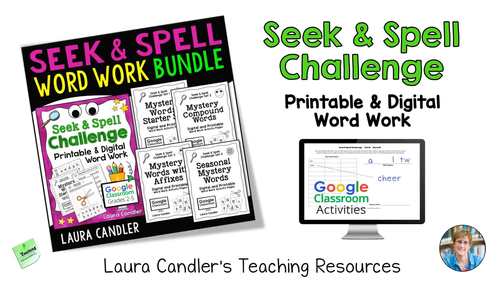 ;
Zip

Google Apps™
Includes Google Apps™
This bundle contains one or more resources with Google apps (e.g. docs, slides, etc.).
What educators are saying
This is a wonderful way for students to apply spelling skills. They have fun manipulating the letters and really get into the challenge of finding as many words as possible. Lots of fun!
My students are so engaged in this activity. The spelling activity has really helped my low and ELL students. My whole class gets into trying to find 20 or more words. I truly love this product!
Products in this Bundle (6)
showing 1-5 of 6 products
Bonus
48 Mystery Words and Dates Used (Recording Keeping Chart)
Description
Seek & Spell Challenge is an engaging word work activity that's so fun your kids won't even know they're learning! But while they are working, they're improving both spelling and foundational reading skills.
Includes both printable activities and digital Google Classroom resources! #DistanceLearningTpT
This Seek & Spell Challenge Word Work Bundle includes a teacher's guide with directions, two mini-lessons, and 4 sets of ready-to-use mystery word printables (48 mystery words), Google Classroom word work activities, grading rubrics, and a set of editable PowerPoint templates. The editable templates make it easy to differentiate instruction by modifying the guidelines and/or creating your own thematic or content-based mystery words.
During this word work activity, students manipulate a set of letter tiles or digital letters to create and record correctly-spelled words. While they are rearranging the paper letter tiles, they try to find the mystery word made from ALL of the letters in the set. Seek & Spell Challenge activities can be completed by students working alone or with a partner. The activities can be used in a whole group setting, within small guided groups, or in literacy centers.
This game is just as effective with ESL students as it is with gifted students because it helps ALL kids become better spellers!
Mystery Word Printables Included in Seek & Spell Challenge
There are 4 sets of Mystery Word printables included in this bundle. To see the words in each set, click on the links below and look at the thumbnail images and previews.
• 12 Mystery Starter Words (Set 1)
• 12 Mystery Compound Words (Set 2)
• 12 Mystery Words with Prefixes and Suffixes (Set 3)
• 12 Seasonal Mystery Words (Set 4)
Powerful Benefits of Seek & Spell Challenge
Seek & Spell Challenge is more than a fun word game. When used regularly, it can boost spelling, phonics, and word recognition skills significantly. As your students search for words, they are decoding the letter arrangements and analyzing words. To do this, they will work with word families, learn to identify prefixes and suffixes, and begin to recognize sight words quickly. As your students check the spellings of the words, they will develop dictionary skills and the ability to use other word reference tools. Over time, you'll notice that your students no longer have to look up every word because they can spell most commonly used words. Best of all, the hands-on aspect of manipulating the letter tiles keeps students engaged and on task. In fact, the activity is so motivating and fun that your students will beg you for a new mystery word each week!
************************************************************
⭐ What teachers are saying about Seek & Spell Challenge ⭐
Over a dozen teachers field-tested Seek & Spell Challenge in their classrooms, and everyone one of them gave it a thumbs up! Here's what some of they had to say about it.
⭐ I love how Seek & Spell Challenge is naturally differentiated to each student's level; my lowest students could find success and my higher students could find challenges. ~ Deena Hayes, 5th Grade
⭐ Seek & Spell Challenge engaged my students and encouraged "real thinking" about words and their spelling. I loved watching teams of two work together and brainstorm and then check the word wall or their "quick words" for correct spelling. Having to find the "Mystery Word" was the bonus! The kids loved this concept and it provided a nice challenge for those who needed it. Manipulating the letters is important for student growth as it provides practice and exposure that they need as spellers, writers, and readers. ~ Cheryl Jordan, 2nd Grade
⭐ My students loved Seek & Spell Challenge! I had them work individually and then with a partner. They enjoyed comparing the words they each had made, finding those that were the same and those that were different. They saw that they could rearrange the letters in each other's "big" words and make smaller words too. I know there are similar word work activities; however, this packet is much more thoroughly put together and easier to prepare and use in the classroom. ~ Cheryl Barrios, 3rd and 4th Grade
⭐ My students loved the kinesthetic aspect of Seek & Spell Challenge. It was interesting to watch how they created words and how the activity easily differentiates itself as the kids are working. Having the letters that can be confused underlined helps greatly. Even though my kids needed help finding the mystery word, they were still so excited to get to it via my clues and were just as happy when they finally figured it out. The mystery part adds such a fun element to the whole activity. ~ Sally Campbell, 2nd and 3rd Grade
⭐ I love how Seek & Spell Challenge differentiates itself. Some kids will naturally focus on basic three letter words, and some will spend the whole time looking for the big word. As an educator, it allowed me to see very clear gaps in their word understandings. It was very clear to see who understood how words come together and who did not. ~ Katie Eskridge, 5th Grade
⭐ I love the flexibility of Seek & Spell Challenge. I can use the words presented or a vocabulary term that the students may be finding a bit challenging. In addition, since I teach multiple grades, it is easy to adapt to the various students that I have. ~ Kris Sandwell, 3rd - 5th
⭐ My students loved Seek & Spell Challenge! It's one of those activities where they think they are just having fun...and have no idea that they are actually working on spelling and vocabulary. It's an easy activity for teachers to use and the directions are easy for students to follow. It can be used as a quick, quiet activity which is always a great thing to have in your arsenal. Whether teachers use it as a weekly activity or a filler activity when a lesson goes faster than expected and they need a quick 20 minute activity, the students will have fun learning and reviewing spelling and vocabulary. ~ Sharon Golden, 5th Grade
⭐ Seek & Spell Challenge is highly engaging! Some kids were upset about having to find a 10 letter word, but I reminded them that it wasn't the importance of finding the mystery word but how many words they could find. This making words activity gets kids to see outside the box when it comes to spelling. ~ Jennifer Maier, 3rd Grade, SPED
⭐ Seek & Spell Challenge worked well with my slow processors: moving the pieces around gave them something tangible to see. I like that the instructions don't REQUIRE the student to fill in every blank. Several of my students are very literal and over-achievers: if the directions stated that there were 24 words hidden, or they HAD to find the secret word, they would be melting down if they couldn't do it. The manipulative part helped my sensory-seeking students. And with my slow-processors,even finding 5-6 words meant they were successful. ~ Susan Cundiff, 2nd to 4th Grade Autism
⭐ ALL of my students enjoyed it. My gifted kids loved the challenge and my lower kids loved finding as many words as possible. I will continue to use this as a station throughout the year! It's great for all levels, and it's not a "filler" but meaningful work! ~ Angela Faust, 4th Grade
Report this resource to TPT
Standards
to see state-specific standards (only available in the US).
Know and apply grade-level phonics and word analysis skills in decoding words.
Know spelling-sound correspondences for additional common vowel teams.
Identify words with inconsistent but common spelling-sound correspondences.
Recognize and read grade-appropriate irregularly spelled words.
Know and apply grade-level phonics and word analysis skills in decoding words.