Spelling Worksheets for 10 Words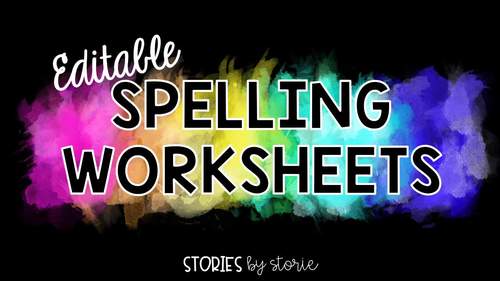 ;
What educators are saying
A really fun and engaging way for my students to practice their spelling list. They look forward to their tun in our centers when they get to work on these. Thank you for creating this resource!
I love how easy these sheets are to use! My kids are engaged with their writing and enjoy having the different options.
Description
The spelling worksheets included in this file work with lists of 10 spelling words. This product has been completed updated and now uses an editable PDF file. After you enter your list of 10 spelling words, all of the worksheets will be created at once. Some of these pages will have answer keys generated for you, too!
This file contains the following spelling worksheets that can be used with lists of 10 spelling words:
3 Different Colors
3 Times Each
ABC Order
All Mixed Up
Connect the Words
Dial-it-Up
Dictionary Guide Words
Disappearing Words
Dollar Words (5 different options)
Fraction Words
Graph Your Words
Growing Words
Hidden Words
Pyramid Words
Rainbow Words
Roll-a-Word (2 different options)
Scrabble Words
Secret Code (4 different options)
Shape Words
Shrinking Words
Sort by Syllables
Spelling Stamps
Spin and Spell
Super Spelling Sentences
Super Speller Secret Message
Vowels and Consonants
Word Battleship
Word Search
There are also forms you can use for spelling tests as well as printable spelling lists for your students to use in the classroom or at home.
You can try Graph Your Words, Rainbow Words, Secret Code and Super Spelling Sentences for free here. You can also see some examples of these worksheets here.
Important Note Before Purchase: This is an editable PDF file. Some functions may not work properly on Chromebooks. Please make sure you have the latest version of Adobe Acrobat DC or newer before purchasing this product.
•••••••••••••••••••••••••••••••••••••••••••••••••••••••••••••••••••••••••••••••••••••••••••••••••••••••••••••••••••••
You Might Also Like:
Spelling Worksheets for 12 Words
Spelling Worksheets for 15 Words
Spelling Worksheets for 16 Words
Spelling Worksheets for 20 Words
Other Spelling & Word Work Packs
•••••••••••••••••••••••••••••••••••••••••••••••••••••••••••••••••••••••••••••••••••••••••••••••••••••••••••••••••••••
Stay Connected with Stories by Storie
♦ Blog
♦ Facebook
To find out about freebies, discounts, and new products, look for the ★ green star next to my store logo and click follow me.
If you have any questions, comments, or need changes made to this product to fit your classroom needs, please e-mail me: atozscrapbook@gmail.com. You can also contact me through my store's Q & A section.
© Stories by Storie - This item is intended for a SINGLE classroom. Duplication for other classrooms, an entire school, a school district, or for commercial purposes is strictly forbidden. Violations are subject to penalties of the Digital Millennium Copyright Act.
•••••••••••••••••••••••••••••••••••••••••••••••••••••••••••••••••••••••••••••••••••••••••••••••••••••••••••••••••••••
Report this resource to TPT