Spreadsheets Lesson Plans & Activities for Google Sheets - Computer Applications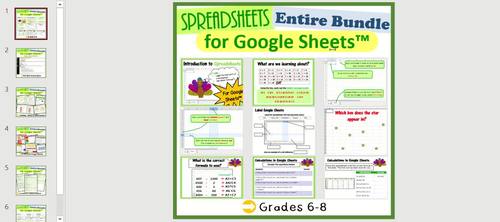 ;
6

th

- 8

th
,
Adult Education
,
Homeschool
,
Staff
PDF

Google Apps™
Includes Google Apps™
The Teacher-Author indicated this resource includes assets from Google Workspace (e.g. docs, slides, etc.).
Also included in
Looking to introduce computer science and technology to your middle school students but don't know where to start? This Middle School Computer Science and Technology Curriculum: Beginner Skills is the perfect solution! This comprehensive curriculum covers a wide range of topics and skills, including

Price $290.00

Original Price $315.00

Save $25.00

This bundle contains the following Google Software Lessons and Projects to teach your students all about Google Docs, Slides, Sheets and Drawings in detail Resources for Google Docs™ and Google Drawings™:This resource is perfect for introducing and teaching Google Docs™ for beginners but at a grade

Price $88.20

Original Price $98.00

Save $9.80

Looking to revamp your Computer Technology and Coding Middle School Curriculum and Lesson Plans for 2 YEARS? This Beginner through to Advanced skills Middle School Computer Science and Technology Curriculum develops and enhances essential technolgy and coding skills for middle school students. It al

Price $460.00

Original Price $535.00

Save $75.00
Description
This Grades 6-8 Google Sheets Bundle teaches youngsters the basic and intermediate skills of Sheets using several google sheets exercises. I have used the resources in my computer lab for 1 hour lessons per week and they have lasted for up to 10 weeks. The timing can alter depending on the ability level of the students completing the worksheets and activities.
Topics in this bundle include:
Introduction to Google Sheets
Calculations in Google Sheets
Understanding and Naming Cell references
Use of simple formulae/calculations such as addition, subtraction and multiplication.
Functions in Google Sheets (sum, min, max, average, mode)
Tallying data in spreadsheets
Making predictions by changing data
Components of a graph
Advantages of spreadsheets over pen and paper methods
Analysing Google Sheets Data
Inserting spreadsheet rows
Practising and Creating Google Sheets from scenarios
Understanding, creating & analysing Graphs in Google Sheets
Absolute & relative cell referencing
Resources included in this bundle:
1. Seven Detailed lesson plans
2. Student Worksheets - can be shared via Drive or Classroom for students to type answers into.
3. Google sheets exercises with accompanying worksheets
4. I Can Statements which cover the following 6 categories:
Text & Number Formatting
Cell Formatting
Creating & Formatting Graphs
Using Formulae & Functions
Sheet Operations
Sheet Layout & Appearance
5. 20 Task Cards which allow students to practise the following skills in Google Sheets independently:
Inserting columns
Deleting columns
Deleting rows
Inserting rows
Adding currency
Removing currency
Adding decimal places
Removing decimal places
Adding borders
Changing border color
Adding fill color
Sorting data
Merging cells
Unmerging cells
Creating charts
Customizing Pie Charts – A closer look
Moving charts to new sheets
Changing Chart types
Adding New Sheets
Deleting sheets
These task cards have promoted independent learning in my classroom. This file contains 4 tasks cards per page (5 pages in total). Tasks cards can be printed in color, cut out, laminated and then given to students to use.
Benefits for you:
Rating this product allows you to collect credits for money off towards your next TPT purchase.
Follow me for more Technology & Computer Science resources as well as future offers.
Terms of Use:
Created by Bal Borde, Copyright © Computer Creations
All rights reserved. Purchase of this unit entitles the purchaser the right to reproduce the pages in limited quantities for single classroom use only. Duplication for an entire school, an entire school system or commercial purposes is strictly forbidden without written permission from the publisher.
Copying any part of this product and placing it on the Internet in any form (even a personal/classroom website) is strictly forbidden and is a violation of the Digital Millennium Copyright Act (DMCA). These items can be picked up in a google search and then shared worldwide for free.
If you have any questions about licensing, please contact me on balborde@gmail.com
Other Google Drive Resources Available on my Store:
Teaching Duration
2 months
Report this resource to TPT