Spring Addition and Subtraction Bump Games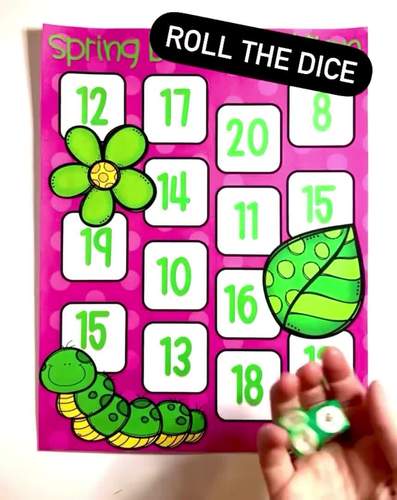 ;
Also included in
Are you looking for engaging math centers for Spring? Included in this bundle you'll find a ton of fun hands on math activities. There are differentiated activities for both addition and subtraction. Some other skills covered are time (to the hour and half hour), and graphing! These standards are co

Price $10.00

Original Price $13.00

Save $3.00
Description
Are you looking for a fun hands on way for your students to practice addition and subtraction? Your students will LOVE these fun bump games! There are 6 different game boards for all the "Bump" fun! These can be used as a center, small group, or even enrichment! Your students will love learning this valuable skill while having fun. These are perfect for spring and will keep your students engaged. This the perfect print and go activity!
Grab The Hands On Math BUNDLE and save 25%!
RESOURCE INCLUDES:
Spin and Add
Spin and Subtract
3 Spring Bump Addition Boards
3 Spring Bump Subtraction Boards
Addition and Subtraction Cards
OTHER ENGAGING ACTIVITIES TO LOVE:
TRY BEFORE YOU BUY!

Click here to try a FREEBIE!
QUESTIONS OR CONCERNS
Email me at lindsaynsauer@gmail.com if you have any questions or concerns about this product. If you are not sure that this product will work for you, please check out one of the freebies. Keep in mind that the preview shows you what the game is going to look like.
Click the Green ★ to follow my store and get notifications when new resources arrive including freebies! New products are always 50% off for the first 24 hours they are posted!
I'd Love to Connect!

CUSTOMER TIPS

How to get TPT credit on future purchases:
Please go to the MY PURCHASES page. Under each purchase, you will see a PROVIDE FEEDBACK button. Click on it, leave feedback, and then you will receive credits for your purchase that you can use on future items (AS IN FREE MONEY to use on TPT)! I do read all the feedback! I can't respond to all of them, but I do value your feedback!

Thank you!
Lindsay Sauer ❤️
Report this resource to TPT
Standards
to see state-specific standards (only available in the US).
Compose and decompose numbers from 11 to 19 into ten ones and some further ones, e.g., by using objects or drawings, and record each composition or decomposition by a drawing or equation (e.g., 18 = 10 + 8); understand that these numbers are composed of ten ones and one, two, three, four, five, six, seven, eight, or nine ones.
Decompose numbers less than or equal to 10 into pairs in more than one way, e.g., by using objects or drawings, and record each decomposition by a drawing or equation (e.g., 5 = 2 + 3 and 5 = 4 + 1).
Apply properties of operations as strategies to add and subtract. If 8 + 3 = 11 is known, then 3 + 8 = 11 is also known. (Commutative property of addition.) To add 2 + 6 + 4, the second two numbers can be added to make a ten, so 2 + 6 + 4 = 2 + 10 = 12. (Associative property of addition.)
Understand subtraction as an unknown-addend problem. For example, subtract 10 – 8 by finding the number that makes 10 when added to 8.
Relate counting to addition and subtraction (e.g., by counting on 2 to add 2).