Spring Craft Editable Writing Prompt ALL YEAR Bundle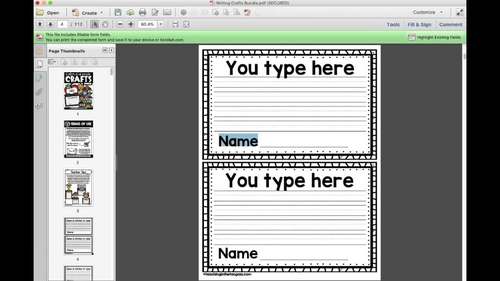 ;
What educators are saying
This was such a fun and exciting resource for my students to use! They loved getting to have the fun little characters on top of their writing to display in the hallways and then take home!
I love this resource! I teach Spanish and I love that I can edit the text to fit my needs. The pictures are super cute, and my students love it!
Products in this Bundle (3)
Bonus
All in One File Plus Bonus Crafts
Description
Why buy 1 craft for each holiday when you can have a spring craft AND ALL you'll ever need and more in this set? This EDITABLE writing prompt and craft bundle is perfect for any bulletin board and can be used all year. This bundle includes different seasonal and holiday page toppers to use all year long, 4 different writing template options (primary and intermediate lined, half and whole page) and the best part? YOU decide what the EDITABLE writing prompt is--perfect for differentiation, foreign languages, if you teach multiage or even if you change grade levels! These writing crafts are FUN and super easy for kids to complete (just color and cut!) AND are very little prep for you--something I know everyone will appreciate! Use them for a beginning of the year bulletin board, research reports, opinion writing...the possibilities are endless!
The following Editable Writing Crafts for Kids are included:
September October November Crafts (Set 1):
Apple, squirrel, scarecrow, pumpkin, firefighter dalmation, Frankenstein & Frankenstein's bride, witch, vampire, mummy, soldier kids, turkey, pilgrim kids
December January February Crafts (Set 2):
Gingerbread, reindeer, elf kids, Santa, New Year's kids, Martin Luther King Jr, snowman, snowflake, penguin, 100th day party dalmation, groundhog, lovebug, Valentine kids
March April May Summer Crafts (Set 3):
Leprechaun, Easter bunny, lamb, butterfly, flower, frog, rainbow, rain bunny, Earth, graduation owl, sunshine, Uncle Sam 4th of July, watermelon, s'mores, ice cream
BUNDLE BONUS TOPPERS:
Kids, flower, cowboy kids, king, queen, troll, pirate kids, robot, superhero kids, viking kids, detective kids, detective dog, chicken, bumblebee, cat, bird, fox, hare, owl, puffin, seal, walrus, wolf, bear, beaver, moose, porcupine, raccoon, skunk, elephant, giraffe, tiger, lion, monkey, hippo, rhino, zebra
© Jen Lium | Teaching in the Tongass
Report this resource to TPT