Spring Graphing Games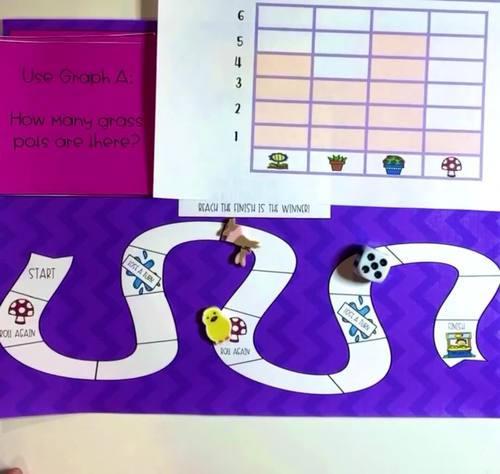 ;
Also included in
Are you looking for engaging math centers for Spring? Included in this bundle you'll find a ton of fun hands on math activities. There are differentiated activities for both addition and subtraction. Some other skills covered are time (to the hour and half hour), and graphing! These standards are co

Price $10.00

Original Price $13.00

Save $3.00

Are you looking for a fun, authentic, and engaging way for students to practice all their graphing skills? Your students will LOVE this JAM PACKED unit bundle!This fun bundle gives you everything you need for a jam packed hands on graphing unit from start to finish! Included in this bundle you'll fi

Price $10.00

Original Price $13.00

Save $3.00

Are you looking for a fun and engaging way for your students to practice important math concepts? Your students will have a blast practicing their ALL their math skills with these hands on math center activities! This year long bundle includes TONS of activities that cover all first grade math stand

Price $33.00

Original Price $58.00

Save $25.00
Description
Are you looking for a fun and engaging way for students to practice graphing? Your students will LOVE playing these graphing games while learning valuable skills! This fun spring themed resource gives you everything you need for a jam packed hands on graphing unit! Included in this resource you'll find activities for your students to practice organizing, representing, and answering questions about data. There are over 50 pages of fun for your kiddos! They will have a blast learning about graphing in hands on ways. Take a look at the preview for some more in depth details of what's included! Want to learn more about fun graphing ideas? Click HERE to learn more!
Grab The Complete Graphing Unit BUNDLE and save 25%!
Grab the GROWING Math Centers Bundle HERE and save 25%
INCLUDED IN RESOURCE:
5 Different Graphing Games
Spin and Graph Activity
Roll and Graph Activity
3 Graphing Worksheets
Graphing Board Game
Color and Black & White
OTHER RESOURCES TO LOVE:
TRY BEFORE YOU BUY!

Click here to try a FREEBIE!
QUESTIONS OR CONCERNS
Email me at lindsaynsauer@gmail.com if you have any questions or concerns about this product. If you are not sure that this product will work for you, please check out one of the freebies. Keep in mind that the preview shows you what the game is going to look like.
Click the Green ★ to follow my store and get notifications when new resources arrive including freebies! New products are always 50% off for the first 24 hours they are posted!
I'd Love to Connect!

CUSTOMER TIPS

How to get TPT credit on future purchases:
Please go to the MY PURCHASES page. Under each purchase, you will see a PROVIDE FEEDBACK button. Click on it, leave feedback, and then you will receive credits for your purchase that you can use on future items (AS IN FREE MONEY to use on TPT)! I do read all the feedback! I can't respond to all of them, but I do value your feedback!

Thank you!
Lindsay Sauer ❤️
Report this resource to TPT
Standards
to see state-specific standards (only available in the US).
Classify objects into given categories; count the numbers of objects in each category and sort the categories by count.
Organize, represent, and interpret data with up to three categories; ask and answer questions about the total number of data points, how many in each category, and how many more or less are in one category than in another.
Draw a picture graph and a bar graph (with single-unit scale) to represent a data set with up to four categories. Solve simple put-together, take-apart, and compare problems using information presented in a bar graph.
Draw a scaled picture graph and a scaled bar graph to represent a data set with several categories. Solve one- and two-step "how many more" and "how many less" problems using information presented in scaled bar graphs. For example, draw a bar graph in which each square in the bar graph might represent 5 pets.