Spring Science, Easter Science Activities, Spring Marshmallow, Peeps Science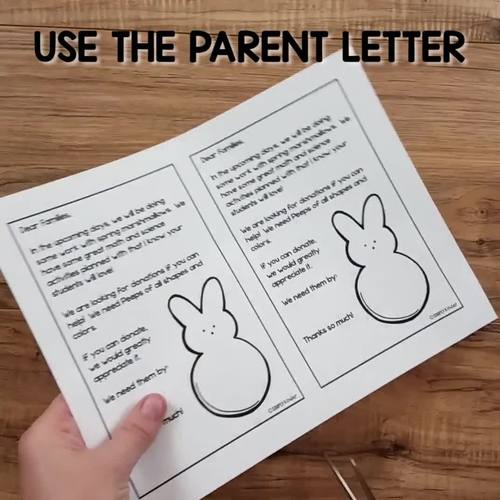 ;
What educators are saying
What a super engaging activity for science experiments! Peeps are such a favorite! The activities were engaging and our class loves science.
My students loved this hands on experiment. I loved the simplicity of the lesson and we stretched it over a couple of days. I will definitely use it again this year.
Description
Spring Science, Easter Science Activities, Spring Marshmallow, Peeps Science
A fun, hands-on, easy prep spring science marshmallow/Peeps science for kindergarten and first grade!
Get this product as part of a BUNDLE and SAVE!
Included in this mini journal are 7 experiments including freezing, heating, leaving out overnight, combining with baking soda and vinegar, putting in different liquids, combining colors, and sink and float.
Also includes:
journal cover
Peeps research
graphing if your class likes them
observing with your senses (download now in the preview)
a blank experiment page so you can create your own.
Peep story page and notes page
Teacher Reviews:
⭐️⭐️⭐️⭐️⭐️ "My students LOVED this!!!! AWESOME resource JUST what I needed! This was great work for my students and they thrived on this resource!"
⭐️⭐️⭐️⭐️⭐️ "I LOVE THIS!!!!!!! My kinder-stars had the best time exploring peeps! They loved it so much that I also did it with my after school STEAM classes! GREAT resource!"
⭐️⭐️⭐️⭐️⭐️ "My students loved this!! We had so much fun doing all the experiments. They enjoyed making predictions and then seeing if those predictions were correct. Extremely fun and engaging."
Check out these other great units for this week:
You might also like these SPRING resources:

You might also like these Top Selling Kindergarten Resources:
Stay up to date with all things Simply Kinder:
✅ Get our emails with weekly FREEBIES, special offers, & teaching ideas

Jennifer Kadar - Simply Kinder - Kindergarten - First Grade - Preschool
© Simply Kinder, LLC
For questions please email Hello@SimplyKinder.com.
Report this resource to TPT