Spring and Insects Multiplication Color by Number Mystery Pictures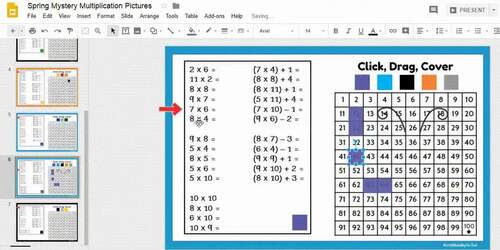 ;
PDF

Google Apps™
Includes Google Apps™
The Teacher-Author indicated this resource includes assets from Google Workspace (e.g. docs, slides, etc.).
What educators are saying
I used these multiplication mystery pictures as an optional activity on my students choice board. They had fun completing them!
Also included in
Engage your students with these digital, NO-PREP, multiplication activities for the entire year. Perfect way to practice multiplication facts around Christmas, Hanukkah, Valentine's Day, winter, St. Patrick's Day, Earth Day, summer, Halloween and more! ➡️ Check out the previews for a closer look!How

Price $15.00

Original Price $27.00

Save $12.00
Description
Engage your students with 5 digital, multiplication activities using a 100 chart for St. Patrick's Day, Earth Day, Easter, and your insect units! Save paper, NO-PREP, and your students will love using their computers and Google Slides to make a leprechaun, the Earth, a butterfly, bee, and chick.
Extra fact practice during the Spring
During math or your Spring math centers
During a St. Patrick's Day, Easter, or Earth Day party
As an early finisher activity
Send as homework
Assign to students sick at home
Use while assessing other students
A calming activity for your wound-up students during the spring months!
Click here to save 40% with the ENTIRE YEAR MYSTERY PICTURES BUNDLE
No, this product is only compatible with laptops and desktop computers. Do not purchase for your students with iPad or tablet devices.
Students will use Google Slides to complete the mystery pictures. Click the PREVIEW to see how it works. Each puzzle contains these types of problems:
4 x 5 =
10 x 6 =
(6 x 6) + 3 =
(11 x 7) - 2 =
⋆ 5 Mystery Pictures in Google Slides
↪ Leprechaun - 60 problems
↪ Chick - 49 problems
↪ Earth - 60 problems
↪ Butterfly - 51 problems
↪ Bee - 56 problems
⋆ Linked SafeShare video instructions on the first slide
⋆ Directions for completing the puzzles
⋆ Instructions for sharing the link (via Google Classroom or other) with students and viewing their completed work
⋆ Completed pictures that serve as answer keys
Students will solve a multiplication problem and drag the indicated colored box over the answer located on the 100's chart. They'll continue this process until the picture is revealed. Some of the multiplication problems are hidden. Students will simply right-click on the box with the math problems, click "Order" then "Send to back" and new problems will appear for them to solve.
Note: There are video directions on slide 1 for your students
Encourage students to use their mouse if they have one.
No, sorry! When you purchase this product, the license can be used for one classroom, not an entire grade level or school. Please purchase multiple licenses if it will be used by more than one teacher. Thank you.
Kathryn Averkamp - kat@makewayfortech.com
Google Certified Educator
Master's degree in Educational Technology
Taught each grade K-4 over the past 11 years
Awarded Teacher of the Year for the 2019-2020 school year
♥ Don't forget you can earn TpT credits by leaving a review after you purchase products.
------------------------------------------------------------------------------------------------------------------------------------------------------------

⭐⭐⭐⭐⭐More Google Activities ⭐⭐⭐⭐⭐
More Spring Resources
• Save over 35% with our SPRING DIGITAL BUNDLE
• Digital Egg Hunt for Any Subject
• Host a Poetry Writing Celebration! (Virtual or In-Class)
• Biography Writing Templates in Google Slides
• Animal Research Report Templates in Google Slides
• Printable Mother's Day Cards in Google Slides
• Spring Multiplication Mystery Pictures
Google Jamboards
• Writer's Workshop Anchor Chart/Class Mini-Lesson Jamboards
• Math Mats and Manipulatives Jamboards
• Reading Response Jamboard Templates
• Valentine's Day Class Jamboard Activity
• January and February Discussion Jamboards
• March and April Discussion Jamboards
• Jamboard Templates BUNDLE (GET THEM ALL)

All Year Resources
• Virtual Parent Teacher Conferences
• Assignment and Agenda Slides with Timers
• Digital Stickers: Improvement Needed + Motivational
• Student of the Day/Week Digital Posters & Class Book
• Printable Growth Mindset and Inspirational Quote Posters
• Entire Year Ultimate Google Slides BUNDLE (Growth Mindset, Reading  Logs, Sharing Projects, more)
• The Great Kindness Challenge Activities in Google Slides
• Digital Growth Mindset Poster Activity

Learn Google Classroom for Teachers
• FREE PDF Guide to Google Classroom
• The Ultimate Video Course for Using Google in Your Classroom
Start mastering Google Classroom and creating interactive Google Slides activities and self-grading assessments in Google Forms. This complete video course will teach you everything you need to know about using Google accounts in your classroom. You'll get instant access to more than 35 easy-to-follow videos that I created specifically for beginners

Writing/Reading
• Animal Research Report in Google Slides
• Biography Report Template in Google Slides
• Distance Learning Writing Prompt Journal "My At-Home Adventure."
• Digital Reading Logs and Graphic Organizers
• Digital Vocabulary Notebook For Any Subject
• Digital Stickers: Improvement Needed + Motivational
• Mother's Day Cards in Google Slides

Math
• Add and Subtract within 20 Word Problems (Great for review/assessment)
• Repeated Addition, Arrays, Equal Groups (Great for review/assessment)
• Entire Year Digital Multiplication Mystery Pictures in Google Slides
• Counting Coins and Bills Activities and Assessment
• Subtraction - Regroup or Not?
• Subtraction with Regrouping Word Problems Review (Topic 6 Envision)

Social Studies
• Me on a Map Digital Flipbook + Landforms Digital Flipbook
• Google Slides Sharing Projects (Timelines, Family Traditions, Community Workers Current Events)
• Communities: Rural, Urban, and Suburban in Google Slides (+ Google Earth!)
Beginning of the Year
• Back to School Night/Open House/Meet the Teacher Presentation
• Top 5 Picks of Summer Collaborative Class Activity
• 9 Back to School Google Activities
Report this resource to TPT
Standards
to see state-specific standards (only available in the US).
Interpret products of whole numbers, e.g., interpret 5 × 7 as the total number of objects in 5 groups of 7 objects each. For example, describe a context in which a total number of objects can be expressed as 5 × 7.
Determine the unknown whole number in a multiplication or division equation relating three whole numbers. For example, determine the unknown number that makes the equation true in each of the equations 8 × ? = 48, 5 = __ ÷ 3, 6 × 6 = ?.
Fluently multiply and divide within 100, using strategies such as the relationship between multiplication and division (e.g., knowing that 8 × 5 = 40, one knows 40 ÷ 5 = 8) or properties of operations. By the end of Grade 3, know from memory all products of two one-digit numbers.
Interpret a multiplication equation as a comparison, e.g., interpret 35 = 5 × 7 as a statement that 35 is 5 times as many as 7 and 7 times as many as 5. Represent verbal statements of multiplicative comparisons as multiplication equations.
Find all factor pairs for a whole number in the range 1-100. Recognize that a whole number is a multiple of each of its factors. Determine whether a given whole number in the range 1-100 is a multiple of a given one-digit number. Determine whether a given whole number in the range 1-100 is prime or composite.