Spring and Weather Thematic Unit for Preschool, Elementary and Special Education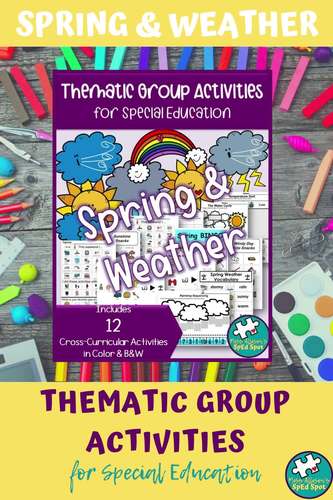 ;
Also included in
Are you looking for thematic activities to supplement your academic instruction or help students better access grade-level curriculum? Do you love teaching literacy using picture books but have students who are nonreaders or reading significantly below grade level? This bundle of thematic unit activ

Price $176.80

Original Price $221.00

Save $44.20

Are you looking for thematic activities to supplement your academic instruction or help student better access grade-level curriculum? Do you love teaching literacy using picture books but have students who are nonreaders or reading significantly below grade level? This bundle of thematic unit activi

Price $120.80

Original Price $151.00

Save $30.20

Are you looking for thematic activities to supplement your academic instruction or help student better access grade-level curriculum? Do you love teaching literacy using picture books but have students who are nonreaders or reading significantly below grade level? This bundle of thematic unit activi

Price $18.40

Original Price $23.00

Save $4.60
Description
Are you looking for thematic activities to supplement your academic instruction or help student better access grade-level curriculum? These Spring and Weather thematic vocabulary, reading, math, cooking, communication, and content activities are the perfect addition to your thematic group instruction! Each unit contains 12 different unit activities in color and black & white and is specifically designed to meet the unique needs of students with disabilities.
Who is it for?
Preschool or Elementary special education classrooms
Students using alternate academic standards
Students needing accessible academic materials to accommodate grade-level curriculum
Features
: contains vocabulary, visual recipes, read aloud communication boards, weekend reports for home communication, math, and content (Science/Language/or Social Studies)
: all activities include a color and black & white version, set-up tips, ways to implement during group, 1:1, and independent work times, and differentiation tips for accommodating or extending learning for every activity (see preview for details).
: hands-on activities encourage interaction and communication
: using PCS from Mayer Johnson (used with permission)
: due to similar formatting across units
: most activities simply need printed but can be laminated or made into velcro boards for increased durability and interaction
: I have developed and used these activities over many years of teaching in a special education classroom
What's Included?
Activities in this Spring and Weather unit include (see preview for details):
Vocabulary Word and Picture Cards
Visual Recipes (2)
Weekend Report for home communication (2)
Reading Communication Boards for popular picture books (2)
Math Activities (2)
Science Activities (2)
Game
Set-Up Instructions
Implementation Tips for Whole/Small Group, 1:1, and independent work times for each activity
Differentiation Tips for Accommodating and Extending each activity to meet student needs
Looking for more thematic units?
© Miss Allison's SpEd Spot
Permission to copy for single classroom use only. Electronic distribution limited to only single classroom use only. If you would like to share this with a friend or colleague, please ask them to visit my store and download the file directly.
Earn TPT credits for leaving feedback!
Leaving feedback helps me develop activities and tools that my followers need and also allows you to earn credits which you can use on future purchases.
Report this resource to TPT