Squirrel Fun! Dynamics Matching Game for Large Group or Music Center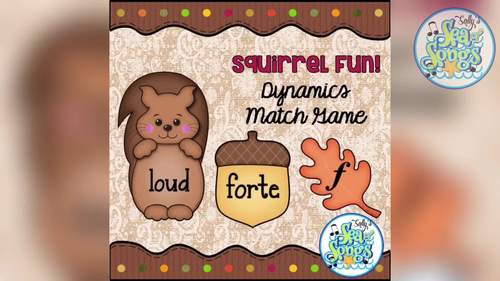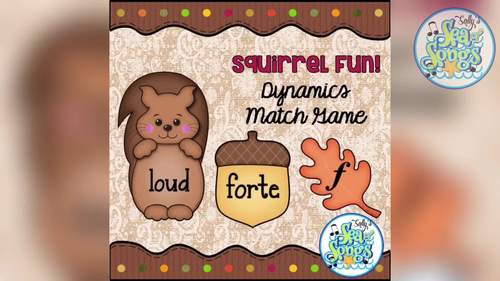 Created By
Sally's Sea of Songs
You can add an interactive layer to this PDF and assign it to your students through Google Classroom.
Learn more
Product Description
Have a little fall fun while reinforcing dynamics terms and symbols. Play a lively full-group game, or use as a more low-key center activity. Print in full color, grayscale, or blackline printing. Also included are two recording sheets for centers and a bonus craftivity that could be used as a bulletin board display.
pianissimo
piano
mezzo piano
mezzo forte
forte
fortissimo
crescendo
decrescendo
Dynamics include options for using either soft or quiet as the English term for piano.
Game time!
Print and cut out one set of squirrels (choose the set that uses your preferred terminology-soft or quiet), acorns, and leaves. Laminate game pieces for durability.
Large Group Game: Give each student one game piece. Leaves and squirrels form one large circle around the room facing the center. Acorns sit scattered in the center of the circle. On a signal, either individually or all at the same time, squirrels should walk around the center of the circle until they find their matching acorn, then they walk together to find the matching tree. Squirrel and Acorn sit on floor next to Leaf to signify they are finished. Play as a race, or time individual teams to add some friendly competition.
Small Group Center Activity One: Shuffle the game pieces like playing cards. Distribute to each player. First player place one piece in the center, the next person either plays on top with a matching piece, or starts a new pile. If you wish to have a "winner" to the game, then allow the person who plays the final piece to each pile collect that set. The person with the most sets wins.
Small Group Center Activity Two: In four-person groups, one person is the timer, one person is the checker, and two people are the players. The object is to complete the matching sets in the shortest amount of time. The checker verifies the sets are correct using the answer sheet, and the timer should record the time on a piece of paper. Then trade jobs – timer & checker are now the players.
#musiccrewfall
How to get TPT credit to use on future purchases:
• Please go to your My Purchases page (you may need to login). Beside each purchase you'll see a Provide Feedback button. Simply click it and you will be taken to a page where you can give a quick rating and leave a short comment for the product. I value your feedback greatly as it helps me determine which products are most valuable for your classroom so I can create more for you.
Be the first to know about my new discounts, freebies and product launches:
• Look for the green star near the top of any page within my store and click it to become a follower. You will now receive customized email updates about this store. ☺
• You can also Like me on Facebook and
• Follow my blog.
Teaching Duration
30 minutes
Report this Resource to TpT