St-Patricks-Day-Activity-Middle-School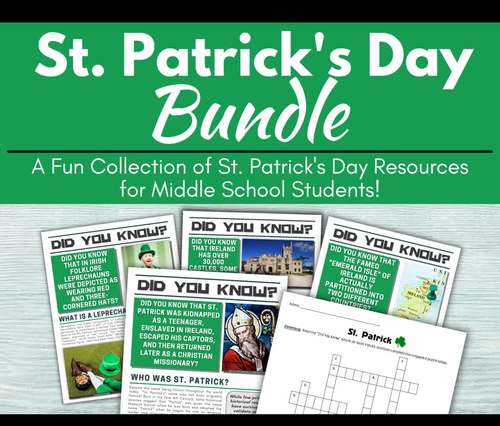 ;
Products in this Bundle (6)
showing 1-5 of 6 products
Description
Searching for a St. Patrick's Day Activity for your middle school students? Check out this fun St. Patrick's Day Bundle! This resource includes an informational article series about all things Ireland and St. Patrick; a short story written by Irish author Oscar Wilde and a literary analysis assignment; and, an informal persuasive writing assignment!
:
Students will have fun learning about the history of Ireland, its Patron Saint, incredible castles, and Leprechauns! Additionally, students will practice their nonfiction reading skills at the same time!
"The History of Ireland"
"The Castles of Ireland"
"The Life of St. Patrick"
"Leprechauns"
Also included are comprehension check crossword puzzles for each article to help students practice reading for detail. Answer keys are of course included!
These informational articles make great texts for Jigsaw Reading Activities and would also make great Sub Plans for your middle school students!

:
Students will also practice their literary analysis skills while ready "The Happy Prince," by Oscar Wilde. Students will explore the characters, the setting, the point-of-view, the plot, the symbols, and the theme of this short story! It's a great way to get students to think critically about fiction!
:
Students will review 10 Persuasive Writing Techniques with an included handout. Then, students will use their argumentative strategies to compose a holiday-themed persuasive piece of writing.
A Student Self-Evaluation Sheet is included as well as a Grading Rubric to make this an easy activity for you!
4 two-page informational articles on Ireland and St. Patrick.
A comprehension check crossword puzzle for each article! (4)
Crossword puzzle answer keys.
Short Story "The Happy Prince"
Literary Analysis Student Assignment for "The Happy Prince"
Student Handout: "10 Persuasive Writing Techniques"
Informal Persuasive Writing Assignment
Teacher Guidelines and Instructions
Lesson Outlines
BONUS: Link to a FREE St. Patrick's Day resource!
Reading Informational Texts
Reading Fictional Short Stories
Literary Analysis (The Elements of Fiction)
Persuasive Writing Techniques
Argumentative Writing (informal)
Self-Evaluation
Oral Presentations
Reading for Detail
Close Reading
Freak the Mighty Skills-based Novel Unit
The Witch of Blackbird Pond - Complete Novel Unit
Informational Text Feature Unit
Did you know that TpT gives you credits toward future purchases when you leave feedback? Your feedback is so important to me as I try to provide the best products possible! Please go to your "My Purchases" page (you may need to log in). Next to each purchase, you'll see a "Provide Feedback" button. Simply click on the button and it will take you to a page where you can give a quick rating and leave a short comment. Thank you so much for providing valuable feedback!
Click on the "Follow Me" button on my store page to see all my latest products and updates!
Teaching Duration
3 hours
Report this resource to TPT
Standards
to see state-specific standards (only available in the US).
Cite textual evidence to support analysis of what the text says explicitly as well as inferences drawn from the text.
Determine a central idea of a text and how it is conveyed through particular details; provide a summary of the text distinct from personal opinions or judgments.
Analyze in detail how a key individual, event, or idea is introduced, illustrated, and elaborated in a text (e.g., through examples or anecdotes).
By the end of the year, read and comprehend literary nonfiction in the grades 6–8 text complexity band proficiently, with scaffolding as needed at the high end of the range.