St Patrick's Day Escape Room & Webscape™ - 2nd Grade Math Review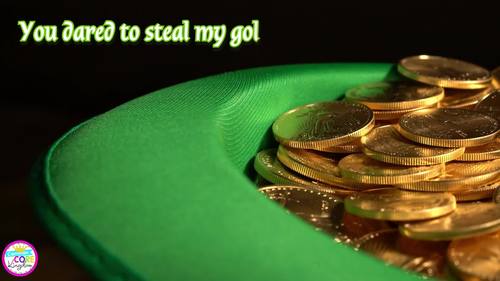 ;
PDF

Google Apps™
Includes Google Apps™
The Teacher-Author indicated this resource includes assets from Google Workspace (e.g. docs, slides, etc.).
What educators are saying
My kids completed these when their work was completed and they loved them. They asked for more. They were a little challenging for my struggling students.
This was an amazing resource to use for my math extension group. The kids did not want to stop working on the escape. I love MagiCore resources.
Also included in
In this St. Patrick's Day Bundle, students get to experience St. Patrick's Day in different ways with different kinds of resources, this bundle includes a Virtual Field Trip, a Project Based Learning, and Escape Rooms all related to St. Patrick's Day!This bundle contains the following resources:What

Price $16.80

Original Price $21.00

Save $4.20

⭐ This 2nd grade Holiday Math Escape Room GROWING bundle is a truly immersive experience. Students navigate their way through various adventures while reviewing key math skills. Students embark on various journeys like escaping a leprechaun's map, catching an elf, and solving Valentine's day mysteri

Price $22.50

Original Price $25.00

Save $2.50
Description
⭐ This 2nd grade math escape room is a truly immersive experience and themed perfectly for St. Patrick's Day! Students navigate their way out of a dungeon in Blarney Castle where they have been trapped for stealing Lucky the Leprechaun's gold coins. To escape, students complete four unique math standards-based challenges. The challenges require students to practice addition, subtraction, money problems, and telling time. Students add their answers to the St. Patrick's Day Magical Decoding Tool to help them unlock the secret codes and complete each challenge. Students earn items used for each step on their way out of the castle. This resource is a great St. Patrick's Day activity and printable and digital versions are included!

⭐ This math escape room comes in digital and print formats.
Webscape™ Format - This web-based format provides the most interactive and immersive experience possible. It is self directed, self correcting, and contains audio. You can check out my video overview here. You won't believe how engaging this format is until you try it!
Google Format - Students complete the exercises in Google Slides. The St. Patrick's Day Magical Decoder is a Google Sheet that self-corrects and tells each student when they can continue to the next challenge.
Printable Format - Students can use any device to scan QR codes to watch the videos. If no device is available, students can skip the videos and still enjoy the exercise. Students use a printable St. Patrick's Day Magical Decoder and answer sheet to decipher the clues and track their answers.
⭐ Integrated videos, thematic items, and a storyline come together to engage students while developing and reviewing mathematics skills.
*Please note: The Google Slides format includes embedded videos that are hosted via YouTube. The printable version includes QR codes for these videos. If you plan on using the Google or printable formats, please ensure you and your students have access to YouTube. The Webscape version does not require YouTube.
✏️ Digital & Printable Versions - Webscape, Google, and print versions make this resource perfect for any classroom. The digital version can be used dynamically in the classroom as a presentation while students complete each mathematical question in groups or individually.
✏️ Immersive Experience: St. Patrick's Day themed, dynamic challenges, and engaging videos provide positive reinforcement and keep students engaged and focused.
✏️Skill Focused: Each question set was written to focus on the key mathematics skills of addition, subtraction, using money, and telling time
✏️Scaffolded Challenges: Challenges increase in difficulty as students progress through the escape room.
✏️No Prep/ Low Prep: Digital version requires NO PREP. The printable version is low prep. Just print the pages, place them in folders, and go. The printable version has the option to incorporate technology and videos through QR codes.
2nd Grade Lucky's Map Escape Room
Print and Digital Directions
Lucky the Leprechaun's Letter
Challenge #1: Addition to find the map
Challenge #2: Subtraction to solve Alwan the Troll's clue
Challenge #3: Telling time to solve Fairy Flossy's clue
Challenge #4: Solving money problems to build a pair of shoes and reveal the hideout.
Escape from the Castle Certificate
Ooops Cards
Recording Brochure
Answer Key
Digital Version Links
Webscape Link for Interactive Browser Based Experience
Google Slides Link for Digital Escape Room
Google Forms Link for Decoding Tool
Please Note: This escape room is similar to the 3rd, 4th, and 5th grade versions, but with problems and skills at a 3rd grade level.
For copyright information and a summary of how this resource can and cannot be used, please review the Terms of Use Page.
***************************************************************************

Comprehension Review Escape Room - 2nd & 3rd
Main Idea Wizarding Escape Room - 2nd & 3rd
Virtual Field Trip - Growing Mega Bundle
***************************************************************************
How to get TPT credit to use on future purchases:
Please go to your My Purchases page (you may need to login). Beside each purchase, you'll see a Provide Feedback button. Simply click it and you will be taken to a page where you can give a quick rating and leave a short comment for the product. Each time you give feedback, TPT gives you feedback credits that you use to lower the cost of your future purchases. I value your feedback greatly as it helps me determine which products are most valuable for your classroom so I can create more for you. ☺
Be the first to know about my new discounts, freebies, and product launches:
Look for the green star next to my store logo and click it to become a follower. Voila! You will now receive email updates about this store. ☺
Follow me on Facebook for updates on new products and sales
Join my email list by visiting my website and receive a free resource
*****************************************************************************
Report this resource to TPT
Standards
to see state-specific standards (only available in the US).
Tell and write time from analog and digital clocks to the nearest five minutes, using a.m. and p.m.
Solve word problems involving dollar bills, quarters, dimes, nickels, and pennies, using $ and ¢ symbols appropriately. Example: If you have 2 dimes and 3 pennies, how many cents do you have?
Fluently add and subtract within 100 using strategies based on place value, properties of operations, and/or the relationship between addition and subtraction.
Add up to four two-digit numbers using strategies based on place value and properties of operations.
Add and subtract within 1000, using concrete models or drawings and strategies based on place value, properties of operations, and/or the relationship between addition and subtraction; relate the strategy to a written method. Understand that in adding or subtracting three-digit numbers, one adds or subtracts hundreds and hundreds, tens and tens, ones and ones; and sometimes it is necessary to compose or decompose tens or hundreds.