St. Patrick's Day Reading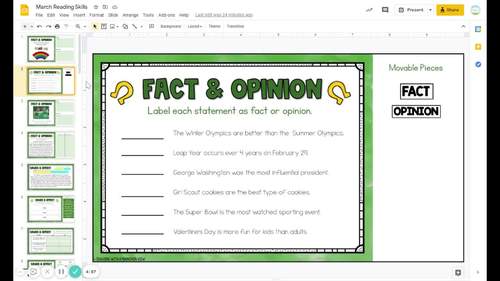 ;
Zip

Google Apps™
Includes Google Apps™
The Teacher-Author indicated this resource includes assets from Google Workspace (e.g. docs, slides, etc.).
What educators are saying
I loved using these in student small groups. I appreciate how easy they are to prepare for student use.
A great resource for reviewing ELA skills! I love that I can print them or share them on Google Drive with my students. Lots of options!
Also included in
A bundled set of 560 Monthly Reading Skills and Enrichment Task Cards that are aligned to common core standards for grades 3-5. There are 56 cards for EVERY month August-May (No June & July, a total of 10 sets) Each of the monthly cards is themed for the month (56 cards each month). What is in

Price $28.99

Original Price $39.90

Save $10.91
Description
Engage your students upper elementary students with these differentiated March reading task cards for third, fourth and fifth grades. This language arts activity includes 56 different task cards that cover a variety of reading and literacy skills. Make reviewing essential reading skills FUN with these themed task cards.
Each card has a fun march theme and addresses important events in US history, doubling the educational value.
Included in the March Reading Skills Task Cards:
4 Main Idea Cards
4 Context Clues Cards
4 Sequencing Cards
4 Inference Cards
4 Compare & Contrast Cards
4 Cause & Effect Cards
4 Fact & Opinion Cards
4 Story Elements Cards
4 Literal Comprehension Cards
2 Point of View Cards
2 Author's Purpose Cards
16 Enrichment Task Cards
A of of the March Reading Skills Task Cards with interactive and movable elements!
These reading skills task cards are both digital and printable! A DIGITAL, Google Slides version is included and is perfect for distance or at-home learning. (Note: some drawing-based enrichment task cards have not been made digital.)
How can I use these Reading Skills Task Cards in my classroom?
In reading centers
As a warm up activity for the whole class
As test prep
As an enrichment activity
For early finishers
To extend learning
Homework
Differentiated literacy practice
In a game of SCOOT
See even more task card ideas at TaskCards.com (A Teaching With a Mountain View website)
What teachers are saying about March Reading Skills Task Cards...
"We use these cards each month for small groups, strategy groups, independent work, and enrichment work. Students love them! " - Emily K.
"One of my favorite resources. I use these for my monthly reading stations!" - R.V.
"I used these as a general skill review right before standardized testing and they were great" - Stephanie S.
"Love the real photographs and the current events included in these [reading skill] cards. My students love these!!" - Michelle H.
Report this resource to TPT
Standards
to see state-specific standards (only available in the US).
Describe characters in a story (e.g., their traits, motivations, or feelings) and explain how their actions contribute to the sequence of events.
Determine the meaning of words and phrases as they are used in a text, distinguishing literal from nonliteral language.
Compare and contrast the themes, settings, and plots of stories written by the same author about the same or similar characters (e.g., in books from a series).
Refer to details and examples in a text when explaining what the text says explicitly and when drawing inferences from the text.
Determine the meaning of words and phrases as they are used in a text, including those that allude to significant characters found in mythology (e.g., Herculean).