"Stained Glass" Christian Christmas Nativity Scene Collaboration Poster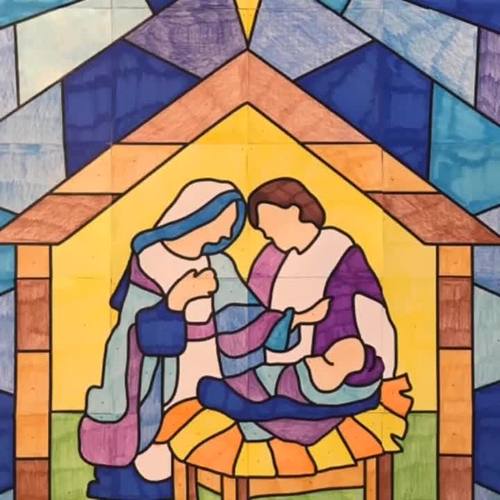 ;
What educators are saying
This was a lovely art project for the children to work on before Christmas. It was easy to use and put together. It created a lovely effective display for Christmas.
This became a beautiful decoration in our home for the Christmas season! My homeschoolers loved creating this artwork.
Description
"Stained Glass" Nativity Scene Collaboration Poster – great for the Holidays! This fun, collaborative activity allows your students to each participate in creating their own poster featuring a "stained glass" nativity scene.
When printed at full size, the final poster is approximately 28 inches by 42 inches. There are 24 pieces, and each piece fits on standard 8.5 inch by 11-inch paper.
• There are 4 columns and 6 rows for a total of 24 pieces.
• The final poster is approx. 28" x 42" when complete. I have also included instructions on how to make the poster smaller if that works better for you!
• This poster is ideal for a large bulletin board or a hallway. 
• Each poster piece fits on a standard 8.5" x 11" piece of paper. 
• The colors you will need are Yellow, purple, orange, light brown, brown, green, skin color, and various shades of blue. 
• Use markers, colored pencils, or crayons. I recommend you use all three (crayons, colored pencils, and markers) for the "various shades of blue." I explain this more in detail inside the resource. 
Also Available: 
"Stained Glass" Nativity Scene Table Posters
"Stained Glass" Nativity Scene Coloring Pages
"Stained Glass" Holiday Coloring Pages
"Stained Glass" Angel Collaboration Poster
"Stained Glass" Poinsettia Collaboration Poster
All my collaboration posters are…
• easy for teachers 
• fun for kids 
…and make a lasting impression--on students, parents, and your entire community! 
Large and visually striking, this poster is the perfect accompaniment to your Constitution Day lessons and makes for a great display in the…
• Front office
• Auditorium
• Hallway
• Bulletin Boards
• In your classroom
No matter where it ends up hanging, it will engender unending compliments while proving a source of inspiration to your students and community! 
Bonus Coloring Page
I have included an individual coloring page in this resource for students to complete when they are done with their own individual piece(s) of the poster. This will also be something they can take home with them and show their families, and tell them about the collaboration project they created in class! 
Some teachers like to show their students what they will be making (that is why I have included a final example), and others want to keep it a secret until the end for a really fun surprise - my personal favorite! 
The collaboration of this poster makes such an impact without really having to say anything - every single piece of the poster matters - just as every child in the class matters. Your students will walk by and say, "I did that piece" each time they see the poster. They take great pride in being part of this art project. 
Differentiation is built into the design of this Nativity Scene activity. Some pages have more to color than others, so some kids will easily color two pages. You can use this to differentiate and provide the appropriate experience for each child to succeed and be part of the group. 
You May Also Like...
"Stained Glass" Coloring Pages
"Stained Glass" Poinsettia Collaboration Poster
"Stained Glass" Angel Collaboration Poster
---
I hope your students enjoy this project!
Please click the "Follow Me" button on this page to keep updated on all my new offerings! 
Thank you for supporting my work and infusing your classroom with art!
Jenny K. 
---
Let's Connect
---
Sign up HERE to join my mailing list, and I'll send you my kindness coloring sheets as a 'thank you.' I love to spoil my e-mail subscribers by sending exclusive freebies, tips, and tricks, as well as special announcements of sales–not to mention that after you join, you'll get invited to my "Subscribers Library" of freebies. 
---
TERMS OF USE: 
The purchase of this product is for one license and is for PERSONAL USE ONLY. 
©Copyright 2017 Art with Jenny K.® ALL RIGHTS RESERVED. Permission is granted to copy pages specifically designed for student or teacher use by the original purchaser or licensee. The reproduction of any part of this product is strictly prohibited. Copying any part of this product and/or placing it on the internet in any form (even a personal/classroom website) is strictly forbidden. Doing so is a violation of the Digital Millennium Copyright Act (DMCA). 
---
If you like my work, please help me keep the price low by purchasing additional licenses for any teacher with whom you would like to share this lesson. Extra licenses are discounted.
Report this resource to TPT