States of Matter Worksheets and Activities for Solids, Liquids and Gases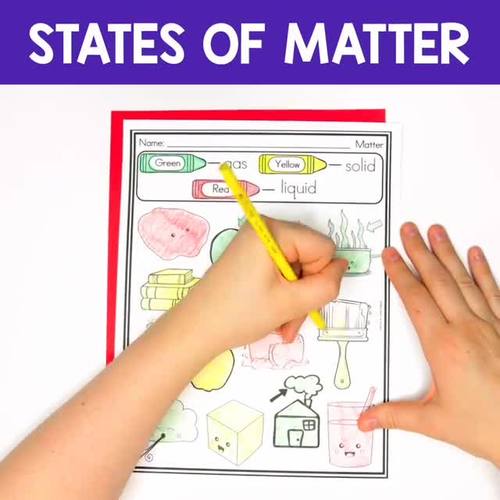 ;
What educators are saying
Thinking it would be hard to teach this to my bilingual students, but they enjoyed it so much I'll be def using more material from this author. Thanks for the inspiration!
It was hard to find good resources on Matter. This was very detailed and offered a lot of variety for our study.
Also included in
Learning about science is so much fun for young learners. Your kindergarten and first-grade students will love the wide variety of activities included in this year-long science unit bundle. The activities included can be used to cover your science lessons throughout the year and are perfect for whol

Price $39.00

Original Price $75.75

Save $36.75

Make planning your states of matter lessons a breeze with this fun bundle of hands-on activities. Your students will love learning about solids, liquids, and gases as well as changing matter and more, with these engaging resources.Included in this bundle:States of Matter Activities:- Matter flap boo

Price $11.00

Original Price $13.50

Save $2.50
Description
States of Matter are a blast with these hands-on activities! This is a great resource to supplement your science lessons in a fun and meaningful way. Your students will love exploring solids, liquids, and gases with these engaging activities.
*You can grab this resource at a discount here: Bundle of Science Activities
The following activities are included:
Matter flap book
Drawing pictures of matter: solids, liquids, and gases.
Cut and paste sorting activity for solids, liquids, and gases.
Labeling pictures of matter using a word bank: solid, liquid, and gas.
Cut and paste - Match the words solid, liquid and gas to the matching picture.
Create a list of different types of matter.
All about Matter mini-reader in two formats, whole page, and half-sheets.
Magazine picture hunt: Students find examples of solids, liquids, and gases in magazines and paste them onto the chart.
Matter Riddles
States of matter color code.
Changing matter – Students are given paper and clay and document how they can change them.
Changing matter picture matching – label the pictures with tear, cut, fold, roll, bend and smash.
Matter Popsicles – An experiment with questions to answer once the experiment is completed.
Anchor Charts for Solid, Liquid and Gas
Vocabulary cut and paste pages
Matter Sorting with headers and picture cards
Interactive notebook pieces
You are going to love the wide variety of options included. There are tons of worksheets and activities for you to choose from when designing your states of matter lessons. They are a great way to add some hands-on fun, to your science lessons.
Teacher tested and approved!
⭐️⭐️⭐️⭐️⭐️- Blair said "My students loved using this resource! I was looking for a resource that included student resources and an anchor chart that could be used throughout our unit, and this was perfect! My students were able to sort each type of matter on our anchor chart and we referred to this chart the entire unit. Thank you!"
⭐️⭐️⭐️⭐️⭐️- Cece said "Great resource, easy to use for teachers and students, thank you for a great tool! These are straightforward, easy, and engaging. My students love them and so do I!"
⭐️⭐️⭐️⭐️⭐️- Elizet said "My students were very engaged in using these activities. They also understood the concept!!! Thank you for creating such a great resource.!!!"
Please check out the preview for more details.
Thank you so much and enjoy!
***************************************************************************
More States of MATTER resources: Matter SCOOT/Write the Room
For more science resources, check out the science section of my store:
*************************************************************************
Customer Tips:

Be the first to know about my new discounts, freebies and product launches:
• Click HERE to follow or look for the green star next to my store logo and click it to become a follower. You will now receive email updates about this store. ☺
How to get TPT credit to use on future purchases:
• Please go to your My Purchases page (you may need to login). Beside each purchase you'll see a Provide Feedback button. Simply click it and you will be taken to a page where you can give a quick rating and leave a short comment for the product. Each time you give feedback, TPT gives you feedback credits that you use to lower the cost of your future purchases. I value your feedback greatly as it helps me determine which products are most valuable for your classroom so I can create more for you. ☺
*****************************************************************************
Report this resource to TPT