Stories For Young Readers Book 2 Audio Files ESL ELL Newcomer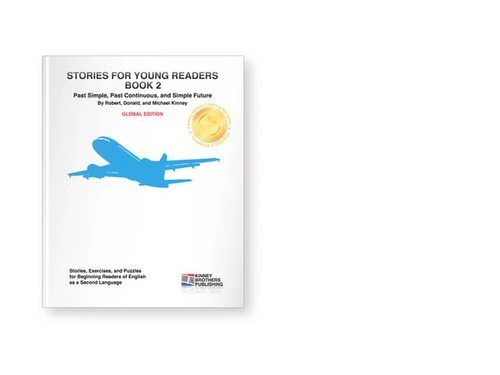 ;
Also included in
This is the English language textbook you've been looking for! At 20% off, this bundle includes the color edition of Stories For Young Readers, Book 2, Teacher's Answer Key, and Audio Files! Be sure to check out the previews!Click here for the black & white version of this bundle.Stories for Y

Price $24.00

Original Price $30.00

Save $6.00

This Communication Giga-Bundle has everything you need - Textbooks, Answer Keys, and Audio Files - all at 30% off! Whether you're a new teacher or a veteran in the classroom, you'll love this ESL bundle! ! Check out the previews to see all this bundle has to offer!All textbooks in this bundle are bl

Price $66.85

Original Price $97.00

Save $30.15

This Communication Giga-Bundle has everything you need - Textbooks, Answer Keys, and Audio Files - all at 30% off! Whether you're a new teacher or a veteran in the classroom, you'll love this ESL bundle! ! Check out the previews to see all this bundle has to offer!All textbooks in this bundle are co

Price $66.85

Original Price $97.00

Save $30.15

This is the English language textbook you've been looking for! At 20% off, this bundle includes the black & white edition of Stories For Young Readers, Book 2, Teacher's Answer Key, and Audio Files! Be sure to check out the previews!Click here for the color version of this bundle.Stories for Y

Price $24.00

Original Price $30.00

Save $6.00
Description
These are the companion audio files for Stories For Young Readers, Book 2. The zip file includes 34 MP3 audio files and a Track List. Teachers can utilize the audio recordings for listening comprehension and pronunciation development. The preview is a downloadable zip file and includes the Track List and an audio file for the first past-tense reading, Linda.
Stories for Young Readers, Book 2, by Kinney Brothers Publishing, is a graded student textbook for students studying English as a second language (ESL/EFL). The textbook practices students in simple past, and past continuous, and simple future grammar tenses. Most importantly, the exercises and activities have been designed to extend students' skills and interest in communicating in English.
Check out some of these additional support products for the Stories for Young Readers series!
Stories for Young Readers, Book 2
Dialogues For Young Speakers, Book 2
Click on the green star near my logo to follow my TpT store and receive notifications of new product releases, sales, and special deals!
Did you know you can get credits to use on any purchase in any TpT store just by leaving feedback? After you've used a product from a TpT seller, please take a minute to return to leave feedback. It's very much appreciated and it's an easy way to earn credits that save you money on your next purchase!
Report this resource to TPT