Story Elements Activities with Google Slides™ Digital Activities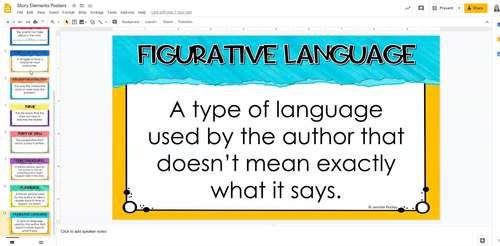 ;
PDF

Google Apps™
100+ Answer Keys & Google Slides Versions
Includes Google Apps™
The Teacher-Author indicated this resource includes assets from Google Workspace (e.g. docs, slides, etc.).
What educators are saying
This research is full of so many great resources to help students understand story elements! My students were very engaged when using the resource during small group and independent practice.
This resource has lots of different activities to help students practice story elements! This was a great tool to help me teach this concept.
Also included in
Do you teach 4th or 5th grade reading? This reading resource will be a lifesaver! It includes everything you need to supplement your reading instruction for the included reading skills (see below for the skills included).This HUGE reading resource is a bundle of 18 of my reading resources and readin

Price $77.00

Original Price $134.00

Save $57.00
Description
This story elements resource includes several resources for introducing, teaching, and extending story element skills for 4th and 5th grade.
NOTE: This resource now has Google Slides™ versions for many of the resources, making it ideal for digital distance learning and remote teaching! Please see the 3rd page of the PDF for details and the links.
Since this resource spans 4th and 5th grade, you will notice that it contains a variety of resources for different story elements and varying text levels and lengths.
**For a resource that focuses solely on comparing and contrasting story elements, click here.
Click here to check out my Reading Units Bundle for 4th and 5th Grade that includes this resource and TEN other resources.
1. Posters/Anchor Charts **Also Available in Google Slides**
2. Graphic Organizers/Foldable Templates **Graphic Organizers Available in Google Slides**
4. Mentor Text Suggestions
5. Two Sets of Passages (see more about the passages below) **Also Available in Google Slides**
6. Four activities for practicing story elements including 16 half-page task cards **Task Cards Available in Google Slides**
Resources for the following skills are included:
•Describing Characters
•Character Motivation
•Character Traits
•Character Response to Challenge
•Describing Setting
•Effects of Setting on Plot
•Effects of Setting on Character(s)
•Problem and Solution
•Challenge and Outcome
•Plot Structure
The resource also touches briefly on comparing and contrasting story elements but not extensively. I plan on creating a new resource specifically for this skill in 2019.
The passages in Set 2 (more about this below) includes printables to allow you to review the following skill (this is not necessary and is an add-on):
•Theme
•Point of View
•Flashback
•Foreshadowing
•Figurative Language
There are two sets of passages in this resource. Use both sets or pick and choose the ones that help your students the most.
Set 1: This set includes 10 mentor texts written for these specific story element skills:
1. Describing Characters
2. Character Motivation
3. Character Traits
4. Character Response to Challenge
5. Describing Setting
6. Effects of Setting on Plot
7. Effects of Setting on Character(s)
8. Problem and Solution
9. Challenge and Outcome
10. Plot Structure
This set works well for introducing specific skills, for mini-lessons, re-teaching groups, or very specific skill practice.
Set 2: This set includes six longer in length passages. Each passage includes a summary prompt and a "Basic Story Elements" questions printable that reviews characters, setting, and plot. Each passage also includes 1-3 other printables with other story elements that are found in the story.
The following activities have been converted to digital versions for your use as well. The digital versions are available for use with Google Slides. See the preview video for more details.
Story Element Posters
Story Element Review Activity
Graphic Organizers
Passages (Two Sets)
Task Cards
Teaching Theme Differentiated Resources
You may also like:
Informational Text Structures Resources
Integrating Information from Multiple Texts Unit
Reasons and Evidence Resources
Analyzing Multiple Accounts Lesson Plan Resource
Total Pages
100+ Answer Keys & Google Slides Versions
Report this resource to TPT