Story Elements Posters | Story Elements Anchor Chart | Five Finger Retell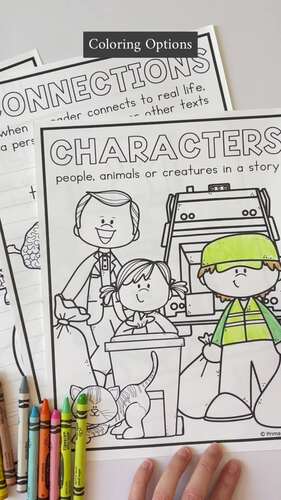 ;
What educators are saying
Fun and colorful posters that help grab my students' attention and support their learning and understanding of different reading comprehension skills.
I love using these posters to show different reading strategies! These posters are starting to help my students understand the reading strategies.
Description
Support your little learners with this pack of cohesive reading strategy visuals. These are great for introducing comprehension skills, using during a read aloud and displaying in the classroom for a visual reference.
This unique set of Reading Comprehsnion posters are tied together with a relatable and connected theme for little. What does this mean? Your character visual is also tied to the setting, the problem, the retell, the BME, etc. This is to help with overall understanding and hopefully make it more meaningful for little learners when they reference them later.

28 Fiction Reading Comprehension Visuals | 8.5x11 Paper
--- 4 Printing Styles to Meet your Needs
- Color
- Color but with Less Black Ink
- Black & White
- Mostly All white – great for a color page

Visuals Include:
Parts of Book
Author
illustrator
Questions
Visualize
Prediction
Inference
Connections
Text to Self
Text to World
Text to Text
Setting
Characters
Character Traits
Problem/Conflict
Solution/Resolution
Theme
Retelling (Hand)
Plot Events
Sequence
Beginning
Middle
Ending
Compare/Contract
Cause/Effect
POV 1st
POV 3rd

*The files are zipped and broken down by Print Style - Color, BW, Color Page and Less Black Ink. After download, unzip and open+print from a PDF reader like Adobe for best results and make sure to view in a Chrome Browser. You do not need a passcode to print. If promoted, double check your browser type & make sure to PDF reader. I hope you enjoy these visuals! :) Happy Reading, my friend.
* * * * * Categories You Might Also Enjoy * * * * *
Craft & Retell
Sequencing and Retelling with Popular Picture Books
- - - - - - - - - - - - - CUSTOMER TIPS! - - - - - - - - - - - - -
Follow my shop to know about early bird discounts, sales and new items!
Earn back TPT Credits toward your future purchases!
Go to "My Purchases" & Leave a Review
Concerns/Help after purchase? please, please reach out first!
Thank you for all you do and your support! I appreciate you!!
If you post any photos to instagram, I'd love to see! tag me: @primaryscouts
Stay connected:
Instagram: @primaryscouts
Website: primaryscouts.com
Report this resource to TPT