Story Starter Creative Writing Prompt: Scary House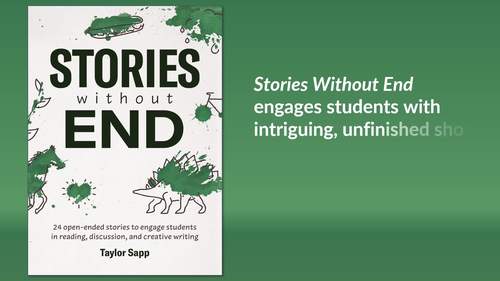 ;
Easel Activity Included
This resource includes a ready-to-use interactive activity students can complete on any device. 
Easel by TPT is free to use!
Learn more
.
Also included in
What's a story starter?It's just what it sounds like, a story that starts but has no end. More developed than a short writing prompt, this story prompt gives students the first part of a story that ends on a cliff-hanger. Because the story has no end, students will have to create their own drawing o

Price $100.00

Original Price $129.00

Save $29.00
Description
What's a story starter?
It's just what it sounds like, a story that starts but has no end. More developed than a short writing prompt, this story prompt gives students the first part of a story that ends on a cliff-hanger.
Because the story has no end, students will have to create their own drawing on their creativity. Even the most reluctant creative writer will find themselves sucked in with this deceptively simple method of getting students to write! Students already have a setting, characters, and even a theme to develop. It's much easier than starting from scratch but still gives them room to create an original story.
This method also helps students understand the importance of writing to an audience as they themselves go from reader to writer.
Each story is also supported with questions and vocabulary activities to introduce the story and followed by discussion questions. This highly flexible, unfinished story model is perfect for teaching reading, creative writing, or discussion. It's easy to use as a one-time treat or integrate into a larger creative writing unit.
What's this story starter about?
In "Scary House", the neighborhood kids are telling the new kid Parker about the haunted house in the neighborhood. Parker decides he's going to go in and take a look. It is it really cursed? Is it a Mafia hangout? Or is it just an old abandoned house? Your students will decide what happens to Parker when he steps inside! Perfect for Halloween!!
***********************************************************************************************************************
What's included?
Teacher Notes with all the information here in more detail
A rubric for assessment of the students' writing
Hero Image
Ask students to look at the image and guess what the story is about, what kind of story it might be, and how haunted house stories usually go.
Before You Read Questions
Students are asked to describe the house in the picture, eliciting some helpful vocabulary, not only of parts of houses, but also words about scary or haunted places! Other questions ask students to think about odd houses they may have seen and about haunted houses.
Preteaching Vocabulary
The vocabulary activity focuses on giving them a quick definition or gloss of the most difficult and/or most useful words in the story so that they can comprehend the reading. Then there are a few questions to help students use the words and learn them in context.
Have students work in groups or pairs to do the words they know, then guess the words they don't.
Let students use dictionaries or phones to look up the words they don't know.
Draw attention to the parts of speech. Have students look up the words in other parts of speech to get a deeper understanding of the words.
Have students find the sentences with the vocab words. Have students decode the sentence using the definitions.
The Story (282 words, ~410-600L)
There are many ways to handle reading short stories in class. Choose the one that works best for your classroom and remember that you can use several different strategies at the same time.
Have students read the story for homework before class.
Have students read individually in class quietly to themselves.
Divide the text into sections and ask students to read the first part to themselves. Then call on a student to summarize what happened. Ask a few students to make predictions about what will happen next. Then go on to the next section.
Put students in reading groups.
Reader's Theater. Put students in small groups to read and perform the stories out loud. For more information on doing reader's theater, check out this post.
After You Read
Comprehension questions ask students about the different theories students have about the house and why it is haunted. Other questions ask students about what the different characters think about the house and what they will probably do. This helps students prepare for writing their ending.
Write the Ending
Students are prompted to finish the story. There are some questions to guide students to the sorts of things students might want to know such as what happens to Parker inside the haunted house and how the house got that way. Students may want to use all, some, or none of these questions. It can be helpful to have students generate their own list of questions they think the ending should address too. This helps students take the perspective of the reader!
You can ask students to approach this assignment in a variety of ways:
Write a short outline or summary and share it in pairs or groups before writing a whole story.
Write a page in class quickly without planning or editing, then revise and rewrite the story for homework.
Brainstorm for ideas as a class (or in groups) and then write individually. Students can fill the board with ideas and details for them to pick and choose when they write.
Start with a mini-lesson about a relevant writing skill, such as describing people, writing a coherent story, or building tension. Then ask students to practice that skill in their writing.
Use a graphic organizer or story map to map out their story.
As a class, come up with a word bank they can use when writing the story.
For students who need a bit of help, give them 2 or 3 prompts to fill out in detail.
Lower-level students can tell the story orally or act it out in groups or in front of the whole class.
An enclosed single-point rubric helps focus students on what they did well and what they still need to improve.
Projects
Other projects include a character profile for the characters. This exercise can help students compile what they know about the characters from the story and also add in some details of their own, based on what the story tells them. This is a great way to analyze any work of literature, as students think about who the people in the story are, what their motivations are, and what kinds of things they would or wouldn't do.
There's also a project to make a short film of their ending or a new haunted house story. The supplementary material guides students through the process.
Finally, there's a project to draw a haunted house. This activity can help students get their creative juices flowing as they can label the house, building vocabulary. Or it can help them think about what features of a house are really scary. Some teachers enjoy having students draw a picture, then tell a brief story of how the house became haunted, before creating their own story!

***********************************************************************************************************************
These also work for distance learning as students can read the story on their own, discuss the questions via online lessons or forums, and then send their endings to you. They can even share them on a class blog or forum for everyone to read and critique!
***************************************************************************************************************************
What do teachers think?
"the storylines are imaginative and varied, and the concept of encouraging written fluency by getting students to create their own 'flash fiction' is something my classes enjoyed immensely" —IATEFL Voices
"One of the best [lessons] this year for engagement, and tonnes of language production." —Peter Clements, British Councils
"The different format and the inclusion of pre-reading motivation questions and post-reading discussion questions and activities really make this stand out among the "writing prompts" that I've encountered. I also appreciate the diversity in terms of reading levels and genres." — Brittany G., Teacher
"...a wonderful jumping point for creative writing in the classroom. You could use this book for any age/grade and adapt the expectation of a creative response to suit." "— Carmen M., Educator
Every classroom should own a copy of this" — Catherine H., Librarian
Students love these too:
These stories] improved my reading speed and are useful to extend reading skills.
—Anonymous
We can learn new words and develop creativity.
—Anonymous
Very interesting and easy to understand.
—Anonymous
The book was really fun!
—Yurie S.
***************************************************************************************************************************
Can I get more?
"Scary House" is taken from the book Stories Without End by Taylor Sapp. This book was a finalist for the 2019 ELTon Award for Innovation in Learner's Resources, presented by the British Council.
Buy the full book in PDF, get it as a money-saving bundle or even buy Stories Without End as a paperback wherever you buy your books!
Or browse the individual story prompts:
Digital Story Starters on Google Forms. Perfect for Distance Learning
Printable PDF Story Starters
Answer Key
Does not apply
Report this resource to TPT
Standards
to see state-specific standards (only available in the US).
Write narratives to develop real or imagined experiences or events using effective technique, descriptive details, and clear event sequences.
Write narratives to develop real or imagined experiences or events using effective technique, descriptive details, and clear event sequences.
Use narrative techniques, such as dialogue, description, and pacing, to develop experiences and events or show the responses of characters to situations.
Use concrete words and phrases and sensory details to convey experiences and events precisely.
Write narratives to develop real or imagined experiences or events using effective technique, relevant descriptive details, and well-structured event sequences.