Storytelling with Student Created Pictures Unit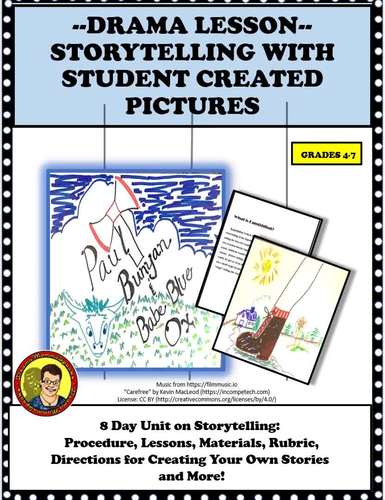 ;
Easel Activity Included
This resource includes a ready-to-use interactive activity students can complete on any device. 
Easel by TPT is free to use!
Learn more
.
Also included in
ELEMENTS OF DRAMA GRAB BAG! 20% OFF!! These SIX products are tailored for elementary and middle school students by an award winning drama teacher and director of thirty-eight years. Included in this bundle:1 play--perfect for the end of the semester before the winter holiday1 biography (Lin Manuel M

Price $17.50

Original Price $25.00

Save $7.50

30% Discount This bundle is perfect for the new theater teacher or those looking for unique and innovative resources. This bundle (280 pages) has everything you need to teach a drama class for a semester, quarter or month (depending upon how many times you see your students.) I created these lesson

Price $43.05

Original Price $61.50

Save $18.45

20% OFF! Four of my most popular products! 126 pages! Here is EVERYTHING you need: a MONTH and a HALF'S worth of engaging, unique and creative learning lessons and units about drama. It is suitable for middle and high school drama or gifted classes. Do you follow me? If not, I hope you will: FOL

Price $28.40

Original Price $35.00

Save $6.60

10% OFF! Back to School can be a stressful but exciting time, especially for new teachers. Guess what? This bundle includes ELEVEN drama/theater units, lessons, exercises and activities to start your school year with a "yay!" See, I got you. Time tested and created by an award winning drama teach

Price $41.13

Original Price $58.75

Save $17.62

DISCOUNT 30%! Are you looking for year-long theater education curriculum and help from an award winning, veteran drama teacher? I created a gigantic bundle of drama lessons, units and plays to help you! This bundle includes 49 products (NEARLY 1,500 PAGES) which were all created by me and time test

Price $199.14

Original Price $285.24

Save $86.10

BUNDLE Save 20%! Here are two units on storytelling--one is Kamishibai storytelling and the other is a beginning storytelling unit. These lessons are great for grades fifth to eighth. Each lessons strengthen students listening, speaking, reading and writing skills. Plus, there's a Bonus Lesson fo

Price $10.00

Original Price $14.00

Save $4.00

BUNDLE! This particular bundle was created for an elementary vocal music teacher who requested it. Save up to 20% on bundles. YOU can do the same thing! Any two lessons can be bundled if you merely write me through my Questions/Answers page. Any grave level, any category, any lesson. THE PRICE

Price $41.60

Original Price $47.50

Save $5.90

BUNDLE! This particular bundle was created for a middle school teacher who requested it. Save up to 20% on bundles. YOU can do the same thing! Any two lessons can be bundled if you merely write me through my Questions/Answers page. Any grave level, any category, any lesson. THE PRICE WILL DEPEND

Price $89.78

Original Price $100.40

Save $10.62

BUNDLE!! 20% Off. Now you can find creative dramatic lessons for your students from a trusted, experienced source. These one or two-day lessons about tableau, chanting, movement, sound effects, storytelling, stage properties, set and costume design are the perfect blend of challenging and education

Price $32.80

Original Price $41.00

Save $8.20
Description
IMPROVED! This is an 8 day low prep unit focused on storytelling using a Japanese form of storytelling called Kamishibai as its springboard. This unit is successful with fourth through seventh grade students and classes in language arts, reading, drama, world history, social studies and ESL.
This product was updated September 4, 2022.
The product includes:
What is Kamishibai storytelling (using its form as a model)
The History of Kamishibai
How to Analyze Illustrations Just Like Film Makers Do!
Effective Storytelling Techniques
Procedure
Teacher's Script--What I say and How I say it!
Materials List--Most You Will Have in Your Classroom All Ready
Instructions How Create the Boards and the "Tricky Part"
Storyboard Examples
Tips and Advice
Editable Storytelling Rubric
Sources
The best part? This storytelling style can be used with ANY story. Students are highly engaged and LOVE this unit!
Created and field-tested by an award-winning drama teacher of thirty-eight years, Kamishibai storytelling guarantees you and your students a rewarding experience.
Do you follow me? If not I'd love it if you would! Follow me
For more Dramamommaspeaks products go to:
Reviews of other Dramamommaspeaks products:
Lin Manuel Miranda Biography
"WOW! WHAT an AWESOME Resource!!!! Thanks for providing the questions, the links, a couple of different teaching options. This could be a great sub plan, but I know every teacher wants to do this lesson for themselves. Love that you finished with a great tweet from L M Miranda. Kids are gonna love THIS."
Sedna, an Inuit Tale
"This resource is a fantastic way to tie Social Studies into reading! Thank you!"

Costume Designs with Fairy Tales
"How interesting, informative, and creative. Thank you for creating this project. It will definitely be helpful."
Earning TPT Credits
• Do you want credit for future TPT purchases? Just provide feedback for resources you purchase. Click on the "provide feedback" button next to your purchases, rate the resource, and leave a short comment. (You need to do both to earn credits.)
You receive 1 TPT credit for each dollar you spend, and you can spend it just like cash on future Teachers Pay Teachers purchases.
Teaching Duration
2 Weeks
Report this resource to TPT
Standards
to see state-specific standards (only available in the US).
Analyze how visual and multimedia elements contribute to the meaning, tone, or beauty of a text (e.g., graphic novel, multimedia presentation of fiction, folktale, myth, poem).
Use verb tense to convey various times, sequences, states, and conditions.
Use correlative conjunctions (e.g., either/or, neither/nor).
Demonstrate command of the conventions of standard English capitalization, punctuation, and spelling when writing.
Use a comma to separate an introductory element from the rest of the sentence.