Stress Unit, Depression Suicide Lessons: High School Teen Health Unit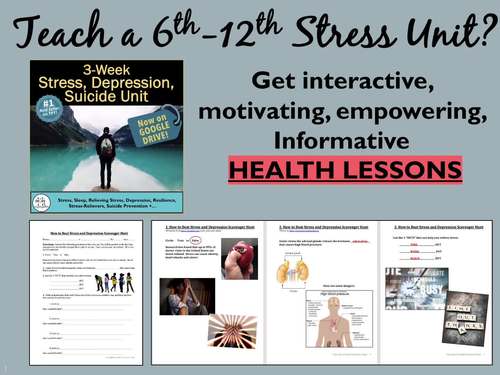 ;
Zip

Google Apps™

Internet Activities
Includes Google Apps™
The Teacher-Author indicated this resource includes assets from Google Workspace (e.g. docs, slides, etc.).
Easel Activity Included
This resource includes a ready-to-use interactive activity students can complete on any device. 
Easel by TPT is free to use!
Learn more
.
Also included in
★★★★★ This "High School Health" program is an editable Word and PowerPoint "For Print" curriculum AND files are also "Online" on Google Drive!➡️ This resource is the #1 Best-Selling High School Health Curriculum" on TPT!☑️ Highlights of This Health Resource:This program strives to give teens the tools

Price $425.00

Original Price $532.00

Save $107.00
Description
★★★★★ Through discussions, reflective surveys, hands-on activities, and interactive worksheets this engaging unit helps students combine their values and motivations, recognize the causes of depression, understand how to get help, treatment, and healing for depression, know the causes of suicide and how to help someone considering it.
-Finally, students learn 5 ways THEY CAN EMPOWER THEMSELVES to overcome stress, to do something good for others, and become more confident and motivated for their own future.
-The unit stresses that suicide is a permanent solution to a temporary problem and it leaves devastation for loved ones in its wake, and what to do if a friend is talking about suicide, and more.
➡️ This resource is taken from the #1 Best-Selling High School Health Curriculum" on TPT!
☑️ :
Unfortunately teen depression is often seen as a normal teenage "phase" of life and consequently, it's not diagnosed or treated.\
Students will learn that Clinical Depression is treatable and that help is available!
This unit uses a "Depression Survey," PowerPoint slides, and activities to help your students understand and possibly recognize the symptoms of stress and depression.
! I just finished an amazing update. There are now all-new photos on the Stress PowerPoint and in many worksheets!
NEW! I separated the high school and middle school "Stress Units" so each will now be sold separately! If you need the "Middle School Stress Unit," check back soon!
★Watch a video to see this program's amazing organization!
☑️ !
This is an editable "For Print" curriculum created in Word and PowerPoint, a digital resource ! This stress unit will make these difficult topics easy to teach and will be impacting for your students…They'll love the sleep project and all the surveys, and the depression and suicide lessons will give them understanding and hope.
★ALL STUDENT DOCS for this "Stress Unit" are uploaded onto .
Assign Health worksheets in your or paperless environment using these student worksheets, surveys, and tests created on Google Slides ! Includes .
with fill-in text boxes for the program are also included!
! Simply my "Student Docs Google Slideshow" (which includes fill-in text boxes) to your computer (Yes- text boxes remain intact!) and !
Includes a I created to show you not only s; but also how to use the Google Slideshows, how Microsoft users can use my Google Slideshows, how to send only one day's lessons to your students, how to add new information/pages to a Google Slideshow, how to edit and upload worksheets, how to voice-over slides, how to add an instructional video on top of slides, uploading to Google Drive tips, how to set up files for an organize Google Drive, and more!
If you upload this unit's PowerPoint and convert to Google Slides; then voice-over audio teacher instructions, you can send audio lessons home for a FULLY INDEPENDENT STUDY UNIT! (Full instructions included!)
☑️ :
"Shutting the Door on Suicide GOOGLE Slides Lesson"
☑️ This is one of my TOP-SELLING units!! Here is what buyers are saying:
"Best unit I've ever used!"
"Huge amount of material for the price. Big time saver!"
"My students learned a lot and were engaged the whole time."
..."The students enjoyed the projects and the interactive nature of the lessons. I will definitely be using it again next year!"
☑️ ALL FUTURE UPDATES I CREATE FOR THIS UNIT ARE PART OF THIS PURCHASE! All new lessons, activities, and any changes that I create for this resource are FREE!! Simply go to your "My Purchases" folder and download anytime!
:
-This 3-week unit includes:
1. 121 pages of step-by-step teacher directions with real student examples of projects!!
2. A 140-slide PowerPoint that walks you through each lesson!
3. 30 documents
4. A Stress Packet that students fill out from the PowerPoint Presentation (and Key)
5. Amazing videos
6. Caveman Bulletin Board Templates ("Why My Brain Still Thinks I'm a Caveman!")
7. Stress Unit Assessment
8. ★NEW!: GOOGLE SLIDES and GOOGLE FORMS for online learning! (Print version is also included!)

----------------------------------------------------------------------------
Day 1: UNDERSTANDING STRESS
-"Stress Vulnerability Survey"
-Goal setting
-The importance of Sleep
-"Sleep Journal"
-"Sleep Posters Project"
Day 2: RELIEVING STRESS
-What is stress and how to relieve stress
-"Stress Survey"
-How Stress Affects Your Brain
-"Above the Stress Project"
-"45 Stress Relieving Activities"
Day 3 -5: ★BONUS STRESS BUSTING MATERIALS:★
-Creating Stress Balls!
-Stress-Busting Doodle Art Coloring
-Stress Relieving Activity Stations Around the Room
Day 6: DEPRESSION
-Depression Survey
-Clinical Depression and Treatment
-Resilience skills
-True Stories
-Video on Depression
Day 7: MORE ON DEPRESSION
-Bi-Polar Disorder
-Anti-Depressants
-"How to Beat Stress and Depression" Scavenger Hunt
-"DEPRESSION Video
-"Traits of Depression Worksheet"
-"I Had a Black Dog, His Name Was Depression" Video
-"Dog Poster Project"
Day 8: SUICIDE PREVENTION
-Suicide Risk Factors
-Why Teens Cut/Self-Mutilate
-Suicide Prevention Video
-Powerful "Emotions Left After Suicide" Activity
Day 9 - 13: Online "Shutting the Door on Suicide" Program
-10 Pages of Teacher Directions
-Link to a 47-Slide Interactive Google Slideshow
-Video and article links, art projects, surveys = impacting!
-"Shutting the Door on Suicide GOOGLE Slides Lesson"
(See a 1-minute video on this powerful lesson online!)
Day 14: STRESS TEST REVIEW
-How to Show You Care if a Friend Talks of Suicide
-"Show You Care Worksheet"
-Stress Test Review and Key
-Stress-Free BINGO Test Review!
(See a 1-minute video on this fun unit test preview!)
Day 15: STRESS TEST
-Stress Test and Key
-"Sleep Homework Project"
-POWERFUL "Stress, Depression and Suicide Parent-Teen Communicator"
------------------------------------------------------------------------------
-----Be sure to click on "Download Preview" above-----
----------------------------------------------------------------------------------
★ You might also be interested in my:
- Full Semester/Year High School Health (#1 Selling Health Curriculum on TPT!)
- Middle/Junior High School Health Curriculum. (#1 Best Selling on TPT)
- Full-Year P.E. Curriculum (#1 Best Selling P.E. Curriculum on TPT)
- High School Health and P.E. - BUNDLE AND SAVE $73.00
- Middle/Jr. High School Health and P.E. - BUNDLE AND SAVE $83.00
-----------------------------------------------------------------------------------
THIS UNIT AND ALL ITS MATERIALS ARE INCLUDED IN MY FULL SEMESTER PROGRAMS: "HIGH SCHOOL HEALTH CURRICULUM" and "MIDDLE/JUNIOR HIGH SCHOOL HEALTH CURRICULUM."
---------------------------------------------------------------------------------
* Documents are editable and included in Word and PDF formats.
* Ask your school district to purchase this curriculum for you!
* Purchase Orders are accepted!
* Additional license for other teachers to buy this product are half price! (Click the license button during purchase)
Thank you so much for previewing!
Mrs. S.
Cover Photo By: https://static.pexels.com
Teaching Duration
3 Weeks
Report this resource to TPT
Standards
to see state-specific standards (only available in the US).
Write arguments to support claims in an analysis of substantive topics or texts, using valid reasoning and relevant and sufficient evidence.
Write informative/explanatory texts to examine and convey complex ideas, concepts, and information clearly and accurately through the effective selection, organization, and analysis of content.
Produce clear and coherent writing in which the development, organization, and style are appropriate to task, purpose, and audience.
Develop and strengthen writing as needed by planning, revising, editing, rewriting, or trying a new approach, focusing on addressing what is most significant for a specific purpose and audience.
Gather relevant information from multiple authoritative print and digital sources, using advanced searches effectively; assess the usefulness of each source in answering the research question; integrate information into the text selectively to maintain the flow of ideas, avoiding plagiarism and following a standard format for citation.