Student Blogging Project Full Unit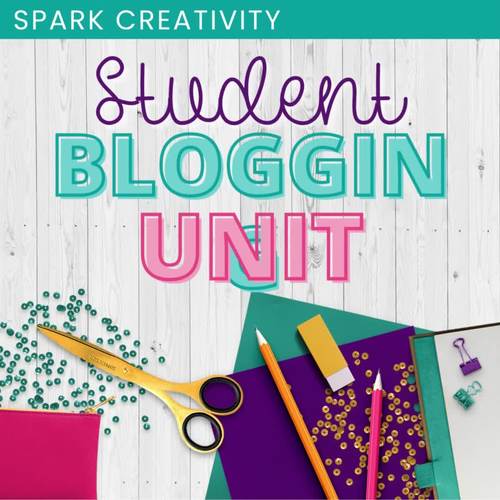 ;
Compatible with Digital Devices
The Teacher-Author has indicated that this resource can be used for device-based learning.
What educators are saying
My students have been loving the variety of blogs included here, and I have been loving how easy it is to use! Thank you!
I used this as a side activity for my seniors to do over the course of the semester. I was impressed with what they were able to accomplish and appreciated the guidelines this resource provided.
Also included in
This ginormous ELA bundle will solve a lot of your problems. You'll never have to stay up late trolling for lesson plan ideas again. You'll just dive into this folder, choose one of the dozens of activities and projects inside, and then hit the hay. Imagine the delicious smells of your own literary

Price $40.00

Original Price $62.99

Save $22.99
Description
Student Blogging: Imagine students writing because they want to. Writing about what they are truly inspired by.
When you teach students how to blog and give them the chance to write what they love, they take a giant step towards becoming writers. Whether your students choose to write about video games, gymnastics, hip hop, or peanut butter cookie recipes, it doesn't matter. They'll be gaining real world media skills and improving their writing and they'll be ENJOYING it.
With these clear and beautiful materials AND the platform of your choice (Edublogs, Squarespace, Wordpress, etc.), you are ready for a one or two-week unit devoted entirely to blogging, or for a 20% time project that will take you through as much of the year as you want it to.
When you choose this packet, you get everything you need to:
• introduce students to the fun of blogging
• send them on a web quest to discover the best blogs in their field
• assign many types of posts to keep them inspired
• help them comment on each other's work
• respond meaningfully to them
In other words, you get a unit that will empower your students and make life easy for you.
*Important Note: These materials are general to any platform you may choose, as tech options and privacy restrictions differ from school to school. The assignments help students learn to make different kinds of posts, but you need to choose and understand the platform that works best for your school. While I previously provided full tech support for the use of Blogger, Blogger has closed their doors to students. Many folks are turning to Edublogs as a great option.
Questions? I'm at betsy@nowsparkcreativity.com.
From the Reviews:
"My 7th grade Honors English students are going to LOVE this resource! I'm implementing this in the second semester!"
"My students loved working on their own blog entry and everything went well thanks to this great resource! The design is also very detailed and beautiful. Thank you so much!"
"I appreciated this resource so much! This is so much more than ideas on how to incorporate blogging into learning-you actually show us how to do it! Thank you!"
"I love the modern approach to make writing more applicable for my students."
"I am excited to use this in the fall for my very small journalism class, as a way to keep them working independently. The student choice piece is a huge buy-in."
"Another wonderful unit. Thank you for all that you do!"
"Wanted to do this when the teacher I collaborate with started doing it. Kids really liked it."
___
If you like this idea, I bet you'll also like my one-pagers line. Find out why thousands of teachers are using my templated one-pagers to make it easy for ALL their students to succeed with one-pagers, even the art-haters.
And if you're into free creative ELA curriculum, check out this page, where I offer a ton of great freebies and a free e-course to help you rock your independent reading program.
Teaching Duration
2 Weeks
Report this resource to TPT
Standards
to see state-specific standards (only available in the US).
Produce clear and coherent writing in which the development, organization, and style are appropriate to task, purpose, and audience.
Use technology, including the Internet, to produce, publish, and update individual or shared writing products, taking advantage of technology's capacity to link to other information and to display information flexibly and dynamically.
Write routinely over extended time frames (time for research, reflection, and revision) and shorter time frames (a single sitting or a day or two) for a range of tasks, purposes, and audiences.
Demonstrate command of the conventions of standard English grammar and usage when writing or speaking.
Apply knowledge of language to understand how language functions in different contexts, to make effective choices for meaning or style, and to comprehend more fully when reading or listening.