Student Reward Coupons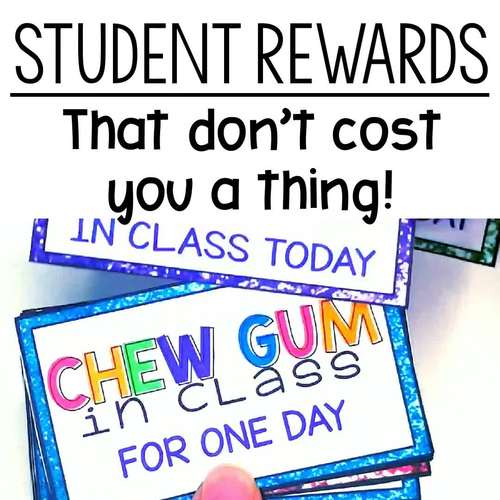 ;
What educators are saying
Very useful to me so that my rewards are pre-planned and it's not chaotic with students coming up with ideas - that usually cost money.
A great variety of reward choices and cute graphics. I'm going to use them along with my sticker challenges.
Description
These printable classroom reward coupons are perfect for elementary and middle school students behavior management! These 40 unique no-cost rewards are great for classroom management and work well with a classroom economy system. Students will work hard to earn these rewards, privileges, and prizes. All you need to do is print, cut and use!
I use these in my Special Education Resource Room. Most of these rewards coupons can be done in a classroom without disrupting learning or involving other classroom teachers.
✔️ Students can keep these in a "wallet" or envelope that stays in your classroom to use at a later time.
✔️ Students can draw a reward from a hat or bowl and use the same day they earned the reward.
✔️ Coupons can be earned at different rates. Such as 10 minutes of Ipad time might require more work than the others.
________________________________________________
TEACHERS LIKE YOU SAID…
⭐️⭐️⭐️⭐️⭐️Kristin A. says "I used these coupons as a reward system to incentive for my students during our test prep review time. They LOVED them and it kept them motivated. Great way to reward them without me having to spend a lot of money."
⭐️⭐️⭐️⭐️⭐️Karen S. says "Using this resource for our token economy to promote positive behaviors. They are creative ideas and the kids love them. The graphic work is really attractive."
⭐️⭐️⭐️⭐️⭐️Darice V. says "The coupons are attractively done. There are numerous choices. Many can be used for whole class rewards as well as individual student rewards."
⭐️⭐️⭐️⭐️⭐️Annie P. says "These are such great prizes that I use for my class! The students are so excited to receive tickets so they can save up to get these awesome prizes!"
⭐️⭐️⭐️⭐️⭐️Demming W. says "These reward coupons mean so much more to my students than treats or prizes! I allow mine to pick their own after they have earned a certain number of points. These rewards definitely help build community in the classroom and make students more accountable."
*************************************************************
⭐Follow me for new products and sales! All new products are 50% off for the first 48 hours!
*************************************************************

⭐Other products you might be interested in:
Report this resource to TPT