Success Skills Small Group Counseling Curriculum for Distance Learning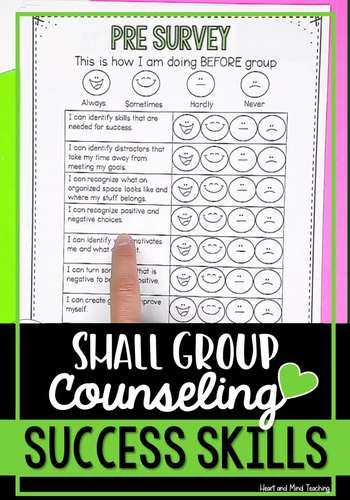 ;
Zip

Google Apps™

Internet Activities
Includes Google Apps™
The Teacher-Author indicated this resource includes assets from Google Workspace (e.g. docs, slides, etc.).
What educators are saying
I loved using this resource with my students. Lots of engaging activities and sparked lots of conversations.
This small group curriculum had so many great activities! Can also use a single lesson with an individual child. Highly recommend!
Also included in
The perfect curriculums for a School Counselor! Teach those social emotional learning skills to help students with social skills, anger, self-esteem, divorce, and success skills. Use with Google Slides. Counseling activities for your groups made easy and fun, just print, prep, and go!I have also d

Price $48.00

Original Price $75.00

Save $27.00
Description
The perfect curriculum for an Elementary School Counselor with an academic student success group focused on setting goals, organization, motivation, time management, perseverance, self-control, changing negative thoughts. Use with Google Slides and Google Classroom for digital learning. Nine School counseling lessons included, get your groups planned out with this ready to go curriculum
I have detailed each session clearly so that it could be used by any educator in a small group setting or modified for a whole class lesson. Geared for elementary-aged students.
Includes all that you need for group from start to finish:
Now includes EDITABLE forms!
►Group Referral Forms
►Parent Consent Form (in English and Spanish)
►Student group reminders for desk
►Attendance chart
►Pre and Post Survey
►Group Rules Form
►Counselor/Psychologist/Social Worker/General Hall pass for group
►Confidentiality sign
►Certificate
9 Group Session Lesson Plans
(all lesson plans include ASCA standards, SEL competencies, session details and objectives, script, guiding questions, and materials):
***Lessons are also sold separately in my TPT Store***
Session ❶: Balloon Icebreaker activity and Group Rules Creation
Session ❷: Tools for Success (Introducing the 6 tools for success that will be discussed in further detail in the rest of the sessions)
Session ❸: Organization Station (Practice organizing items into their proper areas)
Session ❹: Time Thieves (Learn about time thieves that take away from our productivity, a time management lesson)
Session ❺: Climb the Motivation Mountain (What motivates us and what does not)
Session ❻: Forecast your Choices (Practice self-control and making good choices)
Session ❼: Goal Setting Plays (Plan and set goals to make self-improvements)
Session ❽: Flip the Thought (Practice changing negative thoughts to positive)
Session ❾: Road to Success (A board game in which players identify ways to persevere when obstacles try to prevent them from completing their goals)
►Black and White versions of all lessons included!
►Now includes Google Slides links for all 8 counseling lessons, the links and instructions for use are on page 167 of the pdfs.
▶️Where can I find the google slides link?
Google slides link and instructions are on the 3rd to last page of the PDFs.
▶️What formats are included?
-Pdf version to print out. (color and black & white versions)
-Google Slides version (links).
-Editable group forms (referral, consent, certificate, attendance, rules, pre/post survey)
▶️What mode should I use this in google slides?
This product is meant to be used in "edit" mode (not "presentation" mode). Edit mode is the only mode that allows drag & drop and writing in text boxes.
─────────────────────────────────────────────────────────────
✨Check out more Group Curriculums✨
Save money and buy the Bundle: Small Group Counseling Curriculum BUNDLE
★ Social Skills Small Group Counseling Curriculum
★ Divorce Small Group Counseling Curriculum
★ Self-esteem Small Group Counseling Curriculum
★ Anger Management Small Group Counseling Curriculum
⭐Recommended Resources⭐
★ Passport to Executive Functioning DIGITAL
★ My Emotions Monsters DIGITAL
★ Social Emotional Learning Curriculum BUNDLE
★ Character Education: Responsibility
★ Character Education: Kindness
─────────────────────────────────────────────────────────────
❤️Let's stay in touch ❤️
Click here to follow my TPT store to be updated about new products which are 50% off the first 24 hours posted!
Heart and Mind Teaching on Pinterest
Heart and Mind Teaching on Facebook
Heart and Mind Teaching on Instagram
Heart and Mind Teaching Website and Newsletter (sign up for my newsletter to get access to my freebie library).
─────────────────────────────────────────────────────────────
Copyright 2020, 2021 © Heart and Mind Teaching.
If you have questions please contact me: HeartandMindTeaching@gmail.com
Report this resource to TPT