Summer theme-Lemonade CVC fill in the blank spelling cards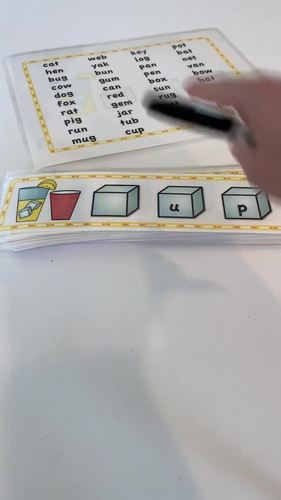 ;
Description
When life hands you lemons, spell CVC words! This activity is perfect for your summer literacy lessons. Learn to read, spell and identify CVC words. 36 total. See the preview for the word list.
Your kiddo will learn to: Read, identify and spell 36 CVC words.
Directions:
Identify the image
Sound out each letter to spell the word
Fill in the blanks to complete the word
Use the word list page to guide you
To extend this activity you can have them write it on a piece of paper/whiteboard.
Cut and laminate for re-use and you will never have to worry about it again!
Perfect for centers/busy boxes. I use these activities as nap time boxes for the non-nappers. :)
Keywords: lemonade, spelling, CVC, sight words, summer, summer theme, summer centers, literacy, preschool, problem solving, writing, phonics, kindergarten,
>>>>>>>>>>>>>>>>>>>Take a closer look in the preview<<<<<<<<<<<<<<<<<<

Hip Hip Hooray for more summer!:
Lemonade CVC fill in the blank
You may also like:
NO PREP spelling Bees sight words
Keep in touch!
More colors:
More Shapes:
More Numeracy:
More Literacy:
More Tracing:
You may also like:
Have you tried?
Let's get digital! Boom Cards™ decks <3
Thank you for the support!
-clickplayrepeat
Report this resource to TPT