Syllable Types and Syllable Division for Orton-Gillingham Lessons BUNDLE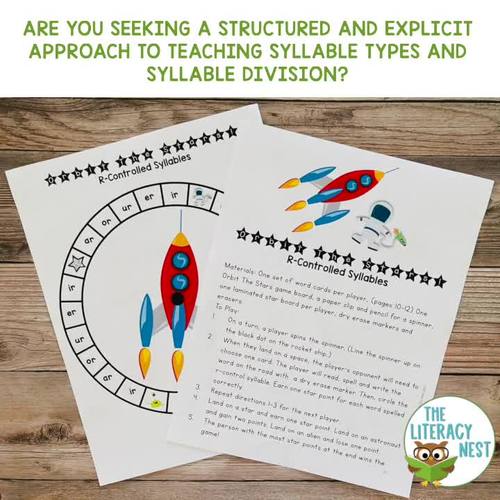 ;
Zip

Google Apps™
291 PAGE BUNDLE with additional files in Google Drive
Includes Google Apps™
This bundle contains one or more resources with Google apps (e.g. docs, slides, etc.).
What educators are saying
This great resource is perfect for providing extra syllable division practice for my intervention groups. Thank you so much!!
I have used this resource for teaching the syllable types to my student. I love having all of the materials for syllable division. It is great practice and a good review.
Products in this Bundle (7)
showing 1-5 of 7 products
Description
Write your Orton-Gillingham lesson plans and you will be ready to go with this extensive bundle of syllabication activities to support your instruction.
Use this syllable types and syllable division BUNDLE for introduction or review of syllabication.
This resource is designed to use a multisensory approach to prepare your student for syllabicating, decoding and encoding multisyllabic words.
Single syllable and multiple syllable practice have been provided in a variety of interactive ways. This growing bundle is compatible with the Orton-Gillingham approach, dyslexia intervention or other reading intervention programs. It may be used in a 1:1 setting, small group or even whole class, depending on your needs.
--Included--
Resources for Closed, VCe, Vowel Team (including Vowel Dipthongs), R-Controlled, Open and C+LE
Syllable Types Mini Posters
Syllable Division
Syllable Types Word Lists
Teacher Word Cards
Matching
Shutter Flaps or Puzzle Pieces for dividing words into syllables
Strategic Games for decoding, encoding, and identifying syllables
Decodable Passages and Fluency Sentence Strips
Sorting and Marking Syllables
--Digital Availability--
A digital version has been added for use with Google Drive. There are text boxes added for students to type their answers. This works well for virtual learning and online tutoring sessions. You may need to adapt some of the games to play online.
*Great news! This resource is included in The Complete O.G. Part Two.*
*Check out more time-saving in my store!
Looking for tips to teach syllable types? Read my full blog series! Click here for a blog series on syllable types.
Need more Virtual Learning Activities? Browse the of my store. 
--About The Literacy Nest, LLC--
The Literacy Nest, LLC creates multisensory activities to use with reading intervention for struggling readers. Many of these dyslexia resources can be used as dyslexia activities, dyslexia strategies, or to support an Orton-Gillingham program or dyslexia intervention program. These Orton-Gillingham activities can be used in 1:1 support, small group, or even whole class settings. Thank you for checking my store for Orton-Gillingham based resources! Follow my store by clicking the green star next to my name so you don't miss out on any new products, freebies, or sales!
Please leave feedback on your purchases to obtain credits for future purchases. Don't hesitate to contact me with questions or concerns before rating products.
Thank you so much for choosing The Literacy Nest, LLC for your classroom and homeschooling needs!
Total Pages
291 PAGE BUNDLE with additional files in Google Drive
Report this resource to TPT