TEACHING STORY ELEMENTS - IN SPANISH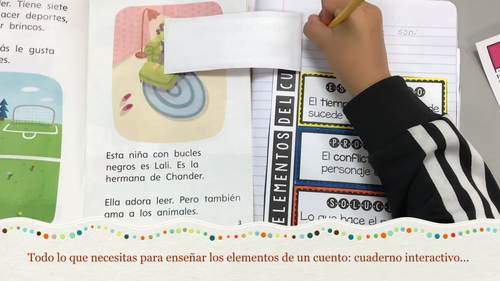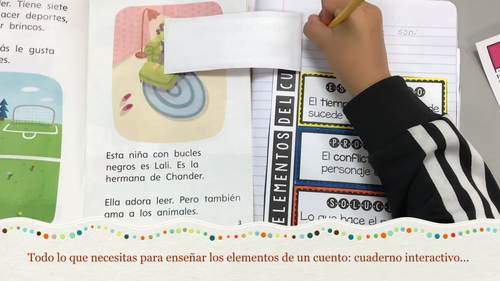 Created By
Bilingual Bee Creates Learning
Formats
 TpT Digital Activity
PDF
 (
116 MB
|
40 pages
)
TpT Digital Activity Included
This resource has been prepared for device-based learning by the Teacher-Author and can be assigned to students via Google Classroom.
Learn more
Learning Objective
Students will learn to identify story elements through the use of graphic organizers and interactive notebook.
Product Description

Standards
EVERYTHING YOU NEED TO TEACH/INTRODUCE STORY ELEMENTS!
Included in this package:
- Story Elements Posters (color - b/w)
- I Can Statements (color - b/w)
- Interactive Notebook pages (b/w)
- Graphic Organizer (b/w)
- Bookmarks (color - b/w)
- Turn and Talk Cards (color - b/w)
- Mini Anchor Chart (color - b/w)
- Match Up Cards (color - b/w)
This package is an excellent complement to the SEPTEMBER READING COMPREHENSION STORY ELEMENTS

DIGITAL LAYER ADDED FOR DISTANCE LEARNING: Assign the STORY ELEMENTS GRAPHIC ORGANIZER in Google Classroom with the TpT digital activity tool: After reading a story, students will type in the rectangles the story elements.
Feedback is greatly appreciated! You will receive TPT credits to use on future purchases.
Be the first to know about new products, discounts, and freebies! Just click on the star to become a follower.
HAPPY TEACHING!
to see state-specific standards (only available in the US).
Describe the overall structure of a story, including describing how the beginning introduces the story and the ending concludes the action.
Ask and answer such questions as who, what, where, when, why, and how to demonstrate understanding of key details in a text.
Report this Resource to TpT