TEI Nonfiction Passage Bundle (PDF & Google Classroom) Distance Learning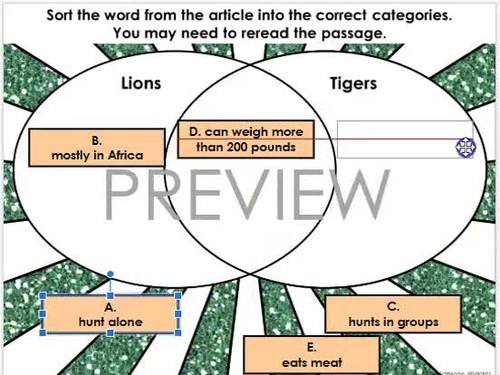 ;
Zip

Google Apps™
Includes Google Apps™
This bundle contains one or more resources with Google apps (e.g. docs, slides, etc.).
What educators are saying
The passages were so engaging and the students loved all the technology enhanced features that went along with the passages.
The reading topics are great for student motivation to read and I love the question format as it mocks the SOL. Thank you!
Products in this Bundle (7)
showing 1-5 of 7 products
Description
This resource includes both PDF versions and a Google Slides links for each of the 7 passages.
7-in-1! What better way to prepare your students for the types of texts and questions they will see on state testing, then with fun SCOOT practice.
This nonfiction passage has questions that model TEI (technology-enhanced items) type questions students will see on end of year tests. The questions cover sequencing, online search, cause/effect, main idea, prefixes, and more. There are 12 question cards total.
How it Works:
1. Copy the passage and the answer sheet back to front.
2. Print the question cards on cardstock, cut apart, and laminate.
3. Hang the question cards around the room, along the hallway, or spread out the cards on desks.
4. Give students time to read the passage before hand, and then allow them to roam around and record answers to the questions on their answer sheet.
5. Encourage the students to use a highlighter to find evidence in the passage.
6. Review the answers whole group or use results to pull a small remediation group.
*OR*
Copy the questions pages small onto one sheet. Then, copy the questions and answers front/back to make the passage accessible as an independent reading passage.
VA SOL 3.6
Come see me!
Report this resource to TPT