TO BUILD A FIRE [LESSON ACTIVITIES]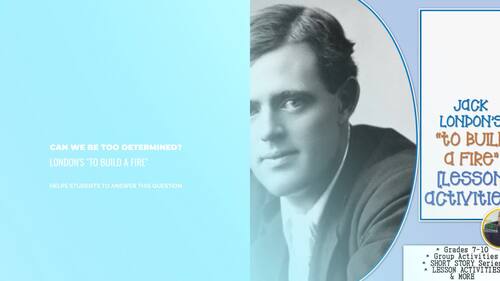 ;
Also included in
This TO BUILD A FIRE [BUNDLE] product allows students to look at themselves, chasing dreams, and being ambitious. 120+ Slides, Several projects, Group Activities, Graphic Organizers, TASK CARDS assignments, Reader Response, Authentic Questioning, Quizzes: Short Responses and Multiple Choice are acti

Price $33.30

Original Price $37.00

Save $3.70
Description
This Jack London "TO BUILD A FIRE" [LESSON ACTIVITIES] product allows students to look at themselves, being overly ambitious, and unfulfilled dreams. 40+ Slides, Several projects, Group Activities, Graphic Organizers, TASK CARDS assignments, Reader Response, Short response and multiple choice Quizzes are activities in this product. This narrative encourages insightful responses from work. 7th - 10th Graders will love this prose and product. Check it out!
---
---
SUMMARY:
London's "To Build a Fire" highlights an unnamed man, simply referred to as "the man," on the Yukon trail. He is in the middle of a cold and isolated setting. He goes on a journey through -75 degree weather with nothing but his lunch and his dog. Regardless of the deteriorating weather, the man trudges on to his boys' house miles away. The dog questions his mission, but stays loyal. Should the man give up? Will he and his dog survive this trek across the Yukon?

This 7th - 10th grade canonized work allows students to look at themselves, their world, and being too ambitious.
---
1. Class Opener/Bell Ringer
2. TO BUILD A FIRE POD Parties
3. TO BUILD A FIRE WATCH/Listening Party
4. TO BUILD A FIRE Poster Challenge
5. TO BUILD A FIRE [TASK CARDS]
6. In the end, it's all about...
7. "FIRE" in SOCIETY
8. REGARDING the man and much, much more
to make your your classroom GREAT!
---
You may also appreciate:
THE INTERLOPERS [UNIT QUIZZES]
THE SNIPER [LESSON PLANS and TEACHER NOTES]
Mary Shelley's Frankenstein [TASK CARDS]
---
FIND ME ON THESE SOCIAL MEDIA PLATFORMS:
Hey guys,
I'm Richard Williams, The Angry Teacher. I've been teaching for 18+ Years , and have amassed quite a bit of knowledge to share. Please consider joining the Angry Teacher family; we'll enjoy having you in the fam!
Please consider checking out the other short story materials and resources in my store.
Also, guys, remember that leaving REVIEWS is a way that TpT gives you credit on products! So let's do it!
Thanks for stopping by!
Teaching Duration
2 Weeks
Report this resource to TPT
Standards
to see state-specific standards (only available in the US).
Cite strong and thorough textual evidence to support analysis of what the text says explicitly as well as inferences drawn from the text, including determining where the text leaves matters uncertain.
Determine two or more themes or central ideas of a text and analyze their development over the course of the text, including how they interact and build on one another to produce a complex account; provide an objective summary of the text.
Analyze the impact of the author's choices regarding how to develop and relate elements of a story or drama (e.g., where a story is set, how the action is ordered, how the characters are introduced and developed).
Determine the meaning of words and phrases as they are used in the text, including figurative and connotative meanings; analyze the impact of specific word choices on meaning and tone, including words with multiple meanings or language that is particularly fresh, engaging, or beautiful.
Analyze how an author's choices concerning how to structure specific parts of a text (e.g., the choice of where to begin or end a story, the choice to provide a comedic or tragic resolution) contribute to its overall structure and meaning as well as its aesthetic impact.