TPT Seller Planner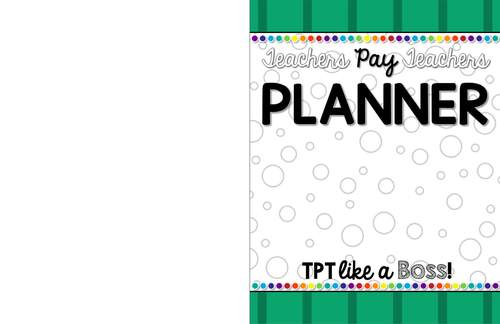 ;
Description
Need a way to plan for a resource? Want to keep track of your products and social media following? This planner works wonders for your growing TPT Business. This 144 page planner will help you as you plan out your business. This planner includes monthly calendars that will help you plan out each month as well as each week beginning in January and ending in December. No dates have been added do you can print and use it every new year. No page numbers at the bottom/top so you can organize your pages how you see it. You can keep track of any giveaway, hashtag sale, and upcoming events you plan to have or participate in. You can keep track of your followers from all the other social media pages including your email list. T This planner has everything you will need for a successful TPT year!
✔️ 2 Versions - Color and Black & White
✔️ 144 Pages each
If you get your planner made professional at Staples or OfficeMax/Depot and need an extra page 2 (or have it removed), please let me know.
⭐️S⭐️
With your purchase, I also can make personal cover based on your store logo and blog. No extra cost! Just email me at teachergameroom@gmail.com with the subject "Planner Cover"
✏️
Store Information - Store Name, Email Address, Social Media Names
✏️Monthly Calendars - A calendar to view your month at a glance
✏️Giveaway-Hashtag Planner - Keeps track of the giveaways you participate in as well hashtags sales
✏️Weekly Plan Sheet - 4 sheets for each week of the month with sections to plan projects, upcoming events, blog posts, and new products to add to TPT
✏️Social Media Planner - Plan your monthly posts for Facebook, Instagram, YouTube, and Pinterest. Also, a small monthly area to plan photo taking days
✏️List of Ideas - A place to write down any ideas that come to mind throughout the year
✏️Milestones - A sheet to write down the milestones you reach during the year
✏️Follower Tracker - Trackers your followers for all social media including your email list, website/blog subscribers
✏️Log-ins & Passwords Log - Keep track of your log ins and passwords across social media sites like TPT, Facebook Instagam, Google, Canva, and more
✏️Goals - Create general goals, long-term goals, and short-term goals
✏️Extra Pins, Photos, and Videos to make - To-Do Lists for keeping track of what pins you need to make, photos you need to take, and videos you need to create
✂️ Added yearly covers through 2027
✂️ 6-7-19 Updated with fonts and new pages!
Please leave feedback for my product! Earn TPT Credits! Thank you for your purchase!
Happy Teachings!
By purchasing this product, you agree not to share, resell, copy, or alter this product in anyway. You agree not share without the purchase of multiple licenses. All sales final. Clip Art is not included as a separate file and is included as part of the background.
Cover Designs by Surfer Kids Clip Art. Fonts by Kimberly Geswein.
© 2019 Teacher Gameroom (Chandra Martin)
Report this resource to TPT