Tailgate Trail Mix in a Cup a Football Big Game Snack Activity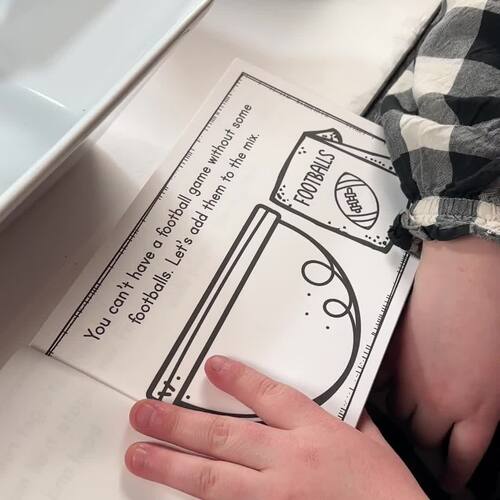 ;
Also included in
This fun growing bundle is filled with activities for the seasons and holidays. It includes activities to make apple pie, pumpkin pie, halloween monster snack, kindness snack, cinco de mayo dip, earth day dirt, bird nest snack, St. Patrick's Day shamrock snack, fun halloween witch's brew snack, turk

Price $48.00

Original Price $90.00

Save $42.00

Enjoy this fun bundle of my Football theme day and my Tailgate Trail Mix in a Cup. Both are perfect for February to practice all the essential skills and have fun with some Big Game Activities too. The theme day includes a full color book to teach your students all about the sport football. There is

Price $8.00

Original Price $14.00

Save $6.00
Description
Tailgate Trail Mix in a cup is the perfect snack to make with your students right before the Big Game or Football playoffs in January and February. This delicious snack comes with a story you read as you mix it. Each snack item represents something at a football game. You can use the mini book provided to follow the directions to make this snack together. There are loads of activities you can work on after completing the snack such as surveying, graphing, sequencing, explanatory writing, crafting, and more. You can make a tailgate trail mix in a cup craft to do a large class graph or use the bulletin board letters to make a cute board too. There is also a coloring version too. Included are a variety of differentiated writing ideas. Also included is a donation letter for parents and mini recipe cards to send home and share with their families. If you enjoyed any of my cup recipes, you will love this one too!
Read about both of these goodies HERE!
Included in this resource you will receive:
Teacher Directions
Mini Book to read with step by step directions copy 2 per page for students 10 pages
Checklist
Visual Pictures
Donation Letter
Donation Reminder
Survey & Graphing several
Results
How to Writing 5 options
Class Book Writing Design a Jersey
Big Game Activity
Color Matching food item to football item
Sequencing Activity 2 options
Whole class graphing activity with poster options color and b&w
"Tailgate Trail Mix" bulletin board letters
Tailgate in a Cup cut and paste craft
Tailgate in a Cup coloring craft
Recipe cards to send home
Want to make more goodies?
JOIN MY GROUP CONNECT & COLLABORATE ON FACEBOOK.
Some other fun ways to connect....
©Megan Mitchell
Report this resource to TPT
Standards
to see state-specific standards (only available in the US).
Organize, represent, and interpret data with up to three categories; ask and answer questions about the total number of data points, how many in each category, and how many more or less are in one category than in another.
Use the illustrations and details in a text to describe its key ideas.
With prompting and support, read informational texts appropriately complex for grade 1.
Write opinion pieces in which they introduce the topic or name the book they are writing about, state an opinion, supply a reason for the opinion, and provide some sense of closure.
Write informative/explanatory texts in which they name a topic, supply some facts about the topic, and provide some sense of closure.