Take Home Folder for Kindergarten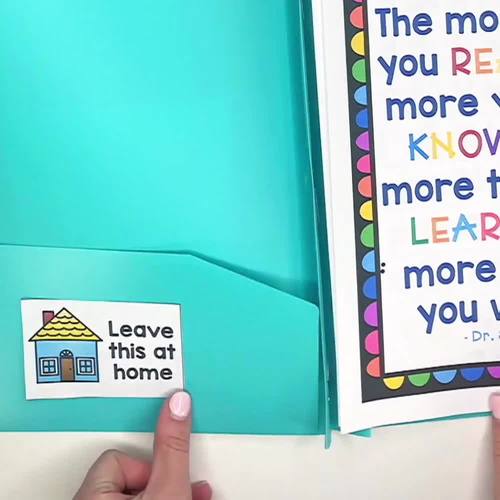 ;
What educators are saying
I'm going to use this for my homework folder so that students can work on various assignments at home. I can't wait to put it into place. Thanks.
I am excited to use this resource to help parents with practicing with their student. It will also be easy to use for differentiation.
Description
Let this be the one resource that you send home daily to help your students practice key concepts in each subject for kindergarten. Whether it is homework replacement, or just added practice, you and your students' parents will love the ease of it.
=================================================================
Why will you love this product?
It is quick and easy to put together
Your students will be able to practice key concepts at home
It can keep extra papers together for great organization
**NOW CONTAINS CANADIAN MONEY!**
How do you use this product?
•You can send this packet home for parents to work on with their children at the beginning of the year or as needed.
•You can have laminated sets in your classroom to have students use when they are done with their work or need extra practice.
•Preferred Method: Purchase three prong plastic folders and use sheet protectors to hold the sheets (see pictures in preview).
Use these folders as nightly practice, to send home important information, and as a place to communicate with parents. With the labels that are included, this makes organization a breeze!!!
The practice topics are:
★Letter recognition
★Sound recognition
★Letter formation
★Numbers
★One-to-one correspondence
★Ten frames
★Money identification and value (American and Canadian)
★Colors
★Shapes
★Fry's first 100 Words List
★CVC practice with pictures
ALSO:
★A quote page for a personal feel.
★Color pages come with black and white option as well.
★EDITABLE Labels
Please know that the "editable" feature of this product is adding your own text to what is already there. Any text and pictures that are included in this are not editable due to copyright guidelines.
Due to request, please note there are now two versions of Take Home Folders when you download this product. In the "shapes" section, one will contain the heart shape, and in the other it will contain the hexagon shape. These will be labeled so you can pick which one would better fit your student's needs. Thank you!
=================================================================
Make sure to follow my TPT store if you want more tips, freebies and alerts!
YOU MIGHT ALSO LIKE:
Sight Word Boom Card Digital Learning
Sight Word Practice Mega Bundle
Report this resource to TPT
Standards
to see state-specific standards (only available in the US).
Count to 100 by ones and by tens.
Write numbers from 0 to 20. Represent a number of objects with a written numeral 0-20 (with 0 representing a count of no objects).
Understand the relationship between numbers and quantities; connect counting to cardinality.
When counting objects, say the number names in the standard order, pairing each object with one and only one number name and each number name with one and only one object.
Understand that the last number name said tells the number of objects counted. The number of objects is the same regardless of their arrangement or the order in which they were counted.