Task Cards Bundle for 2nd & 3rd Grade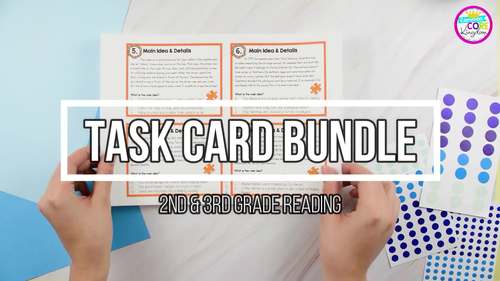 ;
What educators are saying
I love these task cards!! they are great for differentiation and they match the standards very well. They have a set of task cards for each standard in once place which is so helpful.
My students love task cards. These task cards are aligned with the standards and have made my centers much more effective.
Products in this Bundle (28)
showing 1-5 of 28 products
Also included in
⭐️ This bundle includes ALL of my print AND digital Boom Cards™ task cards for 2nd and 3rd grade reading standards. ⭐️ They are perfect for practicing 2nd & 3rd grade reading skills. Aligned to standards and important skills, each set of task cards contain 30 or more short texts followed by one st

Price $92.00

Original Price $141.00

Save $49.00
Description
⭐️ These task cards are perfect for addressing all reading literature and informational text Common Core standards. It will also include other important reading strategies and skills.
⭐️ If you do not use Common Core, this packet is still perfect for practicing and reinforcing asking and answering questions skills. Aligns with many state-specific standards, including TEKS and VA SOL.
⭐️ Color and black-line versions provided.
*** ALL TASK CARD SETS IN THIS BUNDLE ARE ALSO AVAILABLE INDIVIDUALLY ***
There are 28 reading comprehension task card sets.
Ask and Answer Questions in Fiction
Theme
Characters Respond to Problems
Words and Phrases in Literature
Story Structure
Character Point of View
Using Illustrations
Compare & Contrast Stories
Ask and Answer Questions in Nonfiction
Main Topic
Connections in Nonfiction
Context Clues in Nonfiction
Text Features
Nonfiction Text Purpose
Reasons Support Points
Compare Nonfiction
Point of View in Nonfiction
Text Structure in Nonfiction
Figurative Language
Context Clues in Stories
Parts of Stories, Dramas, and Poems
Genres
Predicting
Problem and Solution
Retelling
Setting
Character Traits
Making Inferences
Feel free to email me with other comprehension sets you would like to see added! julie@commoncorekingdom.com
✏️ Centers - These are perfect to use in centers and independent/partner work.
✏️ Scoot - Pass out one card for each student. Set a timer and say, "scoot!" when the timer goes off. Students move seats to the next card. They continue to rotate until they are back in their original seat.
✏️ Scavenger Hunt - Hide cards around the room. Students search for cards and answer them.
✏️ Games - Number block tower blocks. Students stack the blocks, then take turns pulling blocks. Students answer the corresponding number card.
✏️ Whole-Class Practice - Teacher displays card on the projector. Students answer on mini-whiteboards.
✏️ Exit Tickets - Give each student a task card at the end of the lesson. Have them answer on a sticky note.
30 short passages with various text structures
1 Multiple Choice Question for Each Passage
Challenge Card
Recording Template
Answer Key
Available in Color or Black-Line
For copyright information and a summary of how this resource can and cannot be used, please review the Terms of Use Page.
***************************************************************************
Nonfiction Bundle- 2nd & 3rd Grade Common Core Standards
Other Common Core Reading Comprehension Units
***************************************************************************
How to get TPT credit to use on future purchases:
Please go to your My Purchases page (you may need to login). Beside each purchase, you'll see a Provide Feedback button. Simply click it and you will be taken to a page where you can give a quick rating and leave a short comment for the product. Each time you give feedback, TPT gives you feedback credits that you use to lower the cost of your future purchases. I value your feedback greatly as it helps me determine which products are most valuable for your classroom so I can create more for you. ☺
Be the first to know about my new discounts, freebies, and product launches:
Look for the green star next to my store logo and click it to become a follower. Voila! You will now receive email updates about this store. ☺
Follow me on Facebook for updates on new products and sales
Join my email list by visiting my website and receive a free resource
*****************************************************************************
Report this resource to TPT
Standards
to see state-specific standards (only available in the US).
Ask and answer such questions as who, what, where, when, why, and how to demonstrate understanding of key details in a text.
Recount stories, including fables and folktales from diverse cultures, and determine their central message, lesson, or moral.
Describe how characters in a story respond to major events and challenges.
Describe how words and phrases (e.g., regular beats, alliteration, rhymes, repeated lines) supply rhythm and meaning in a story, poem, or song.
Describe the overall structure of a story, including describing how the beginning introduces the story and the ending concludes the action.