Tattling vs. Reporting Boom Cards Distance Learning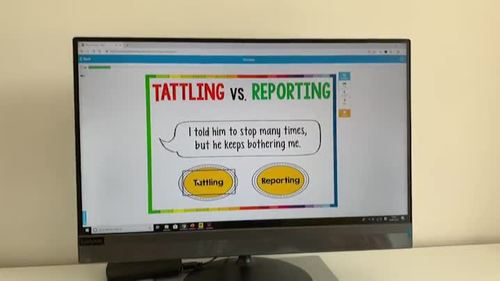 ;
Compatible with Digital Devices
The Teacher-Author has indicated that this resource can be used for device-based learning.
Description
How do you get your students to understand the difference between tattling and reporting? This set of Boom Cards includes 1 lesson card and 30 digital task cards with common things that young students tattle and report. Your students will have to identify which statement is tattling and which is reporting. You can play these on interactive whiteboards, computers, and tablets. Boom cards will provide the element of fun and your students will be so engaged that they will be asking for more!
Other Resources for Tattling:
Freebie: Tattling and Compliment Jar Labels
Stop the Tattling Now PowerPoint Lesson and Printables
PLEAS READ
Boom Cards live in the cloud. They can't be printed. They play on most modern browsers, Android, iPads, iPhones, and Kindle Fires. You open a Boom Learning account to play them (to protect the children). Create Fast Play pins to assign your Boom Cards to students.
Boom Learning also has premium accounts. Premium accounts offer advanced assignment tools, individual and whole class performance tracking, and more. If you are a new Boom Learning customer, when you redeem your Boom Cards purchase you get 90-day free trial of a premium account. When your trial ends, you can renew or move to a free account. You may upgrade, downgrade or cancel at any time. Free accounts use purchased Boom Cards with Fast Play pins.
Thank you for visiting my store! :)
Report this resource to TPT