Teacher Appreciation Week - Teacher Gift- Teacher Morale Booster Quotes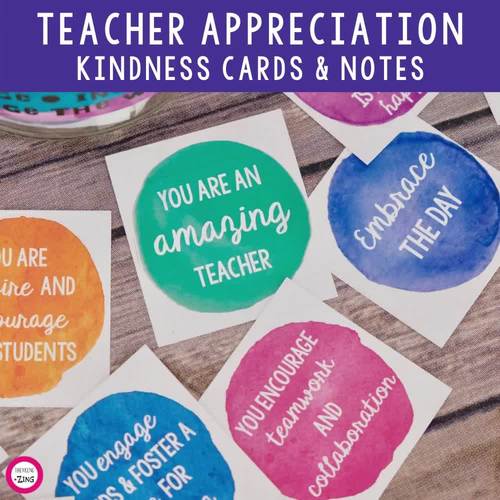 ;
What educators are saying
I love using this resource to choose quotes specific to my teachers and attaching it to a little snack as a pick-me-up and encouragement throughout the year.
We used this resource to show our appreciation to one of my girl's teachers for teacher appreciation week. We had a lot of fun putting it together and the teacher loved it!
Description
Teacher Appreciation Kindness Cards make a great teacher appreciation week gift from students. It includes teacher quote cards and teacher appreciation notes. They can be given as a gift from students or the cards can be used as teacher inspiration notes. They are designed to remind teachers they are valued and appreciated. The collection of cards include positive messages, inspiration, gratitude, compliments, and quotes... basically kindness cards for teachers!
Includes:
• 120 different card designs with the themes of affirmations, compliments and inspirational messages. These are only available in the watercolor version. Please note NO black and white version on the inspirational cards.
• 20 mini-note cards with prompts for students to write their own messages. (Ink friendly black and white version of the mini-note cards is included)
PLEASE NOTE: The cards are mini in size designed to be like confetti. The square cards measure approximately 2 in x 2 in.
Suggestions & Ideas:
• Give as a teacher appreciation gift in a jar, basket or envelope.
• Place cards in jars or baskets around the school for teachers to "take as needed"
• Pass out at staff meetings or other meetings.
• Place in teachers' mailboxes
• Leave on teacher's desks to brighten your co-worker's day
Remind teachers they are valued and appreciated!
Related Products
❋ Kindness Confetti Cards- Kindness Activity
❋ Kindness Confetti Quote Cards and Posters
❋ Positive Thinking Affirmation Mazes
✱ Positive Affirmation Cards for Students
If you would like to get updates on new products, resources and ideas…
FOLLOW me on Teachers Pay Teachers
Report this resource to TPT