Teacher Binder and Planner| Editable | Forms | Calendars | FREE Updates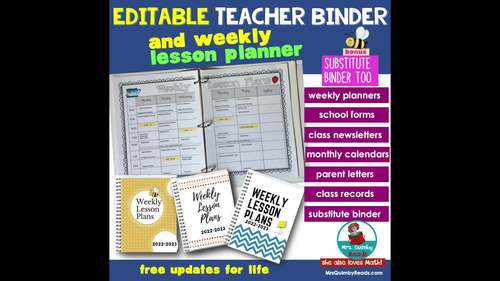 ;
What educators are saying
Thank you for this binder. This is such a lifesaver and saves me so much time! I absolutely love it. It has everything that I need at my access.
Description
Teacher Binder and Weekly Lesson Planner...Jam packed with lesson planners, important school forms, monthly newsletter templates, parent letter templates, grading forms, behavior reflection pages, number circles and a substitute teacher notebook! FREE Updates for Life ! Get organized with Your
'Everything, Everything' Teacher Binder! for 2023-2024
Design your Weekly Lesson Planner with these bright and colorful colors and formats. 14 different formats for your planner and 42 cover designs.
When you purchase this teacher binder, you will get
AND a - Substitute Teacher Notebook!
This teacher binder is currently dated through August 2024. As I add new forms and update the calendars, you will be notified so you can access the update and new pages for FREE! Your editable teacher binder can be used this year but also year-after-year without ever purchasing a new one!
Your teacher binder will be fun to build as you have many covers, colors and designs to choose from... you can even change them whenever you 'd like!
Brighten Your Day! Save Time! Get Organized! Stunning clip art!
300 essential pages to keep your school year running smoothly!
Covers and Dividers for your teacher binder – 42 Designs
Colorful spine covers for your teacher binder
Weekly Lesson Planner - [14 styles]
One Weekly Lesson Planner for 6-day rotation
Important Forms for Classroom and School
Monthly Calendars - 2 styles – one page and also 2-page layout for your notebook - Calendars from March 2023 to August 2024
One page daily schedule – at- a-glance
Number Circles for Class # Assignments
Monthly Newsletter Templates [just type in your news!]
Bonus : Substitute Notebook
[keep these forms in one place and ready to use]
one page daily routine at- a-glance
class roster
Birthdays
student medical information
Individual Student form
IEP student form
Small Group Lesson form
Guided Reading Student Snapshot form
Guided Reading Lesson Plan
Guided Math Lesson Form
Writing Lesson Form
Writing Conference form
Guided Reading Notes (individual student)
Parent Communication Log
Meeting Notes
To Do List
Recording sheets for grades
Transportation Home List
Emergency Plans - Fire Drill and Lockdown
Seating Charts
Labels for Tables
Codes and Phone Extensions
Website Log-In Form
Behavior Forms - Think Sheet, Action Plan
Year-at-a-Glance!
Editable Letters for parent communication: [these letters save time! And they are editable to place YOUR information within the context of the letter]
Back-to-School Parent Information Letter
Parent-Teacher Conference Form
Parent-Teacher Conference Reminder
Field Trip Permission Slip
This "Everything, Everything" Editable Teacher Binder is organized [of course] in 6 different folders. This is by design so you can find the pages you need instantly. This is all about being organized and this teaching resource can help you do just that! Make your beautiful "Everything, Everything" Editable Teacher Binder your own style. Everything is here for a simple click, download and print. You may wish to print out your daily schedule or lesson planner on 2 sides… it is the best format to make your notebook. However, these are yours to use in the way that makes you happy!
- Covers for Teacher Binder, Dividers for Schedule and Forms, Spine covers for your notebook. You can build a teacher binder notebook or also make a weekly planner which is spiral bound and slim - directions included.
- Weekly Lesson Planners, editable and there is also one weekly lesson plan grid that was made for a 6-day rotation if your school were following that type of schedule. These weekly planners spread across your teacher binder. They are fully editable on your computer, but you can also print them out and hand write in the grid as you wish.
- Calendars are in this file. There are 2 styles – one page, and 2 page spread over your notebook binder. Spaces to write in activities and events for your classroom and school.
- Curriculum Assessment Forms and Grading Recording sheets. Simply type in your class list on the form; then print out. Keep these in your notebook and add grades as you go. Forms include those for student evaluation, guided reading, small group instruction, writing conferences, math groups, IEP information. Also included are Classroom Management Forms for behavior, seating charts, labels for tables, number circles, field trips, medical information, codes for copy machine, birthdays, transportation home, emergency procedures meeting notes, and more.
- Letters to Parents - Back to School letters, field trip permission, parent communication log, schedule summary, letterheads, templates for letter for back-to-school. These letter templates will save you time when you are so busy at the start of a new school year.
- Monthly Newsletter Templates - Each month you will have a one page newsletter template that you can easily edit and type in your news! There are 2 styles of newsletters, choose one, type in your news, and you are done! Keep your parents informed of the valuable and wonderful things that happen in your classroom! and be sure to put a copy in your Administrator's box!
Included is a pdf file to help with editing the weekly lesson planners and forms. Easy to do!
***BONUS*** Also included is a teaching resource for a SUBSTITUTE TEACHER BINDER NOTEBOOK. This is a $7.99 resource when purchased separately; however, I have included that resource here as a BONUS for you… and thank you for purchasing my Everything, Everything, Editable Teacher Binder.
You will receive all the updates --FOR LIFE-- as I create them. Each school year there will be an update as calendar changes. You will find that you have more time when you are organized with an editable teacher binder.
Thank you for previewing this teaching resource.
Would you like to know when I post new teaching resources and update this one?
Important Forms for Teacher Notebook - only
Classroom Newsletter Templates - only
Substitute Teacher Notebook - only
Open House- Meet the Teacher – Brochure
Open House – Meet the Teacher- Slideshow Presentation [Editable]
Posters for Classroom Display – Teach Kindness and Respect
Classroom Rules Posters for Display
First Week of School – Writing Prompts
I Am ME Booklet for Pre-K -Grade 1
Reader Response Journals Task Cards
Little Red Hen Literacy-Math Unit
Charlotte's Web -Book Companion for Primary Readers K-1
Island of the Blue Dolphins - Novel Study
Aesops Fables Mini-Literacy Unit
The Giving Tree by Shel Silverstein Writing Response Pages
Informational Text Book Circles Reader Response Jobs
The One and Only Ivan - Novel Study
Number the Stars - Novel Study
Multiplication Practice -USA-States & Capitals Game
Multiplication Practice - Roll and Multiply
Learning Multiplication - Bundle
All About Whales - Read and Write
All About Birds - Read and Write
Listen, Draw and Follow Directions Grades 1-2
Writing Sentences for First Graders
Thank You Cards for Primary Learners to Read-Color-Paint-and-Send
Writing Checklist for Beginning Writers
******************************************************************************************
50% off all new teaching resource listings for the first 24 hours. Follow to
receive notifications of new listings, sales and updates. Thank You Followers
******************************************************************************************
Making Connections
Read Alouds - MrsQuimbyReads-Children's Literature
Follow MrsQuimbyReads on Pinterest
Report this resource to TPT