Teacher Planner Templates EDITABLE - Teacher Binder - Google, Excel & Numbers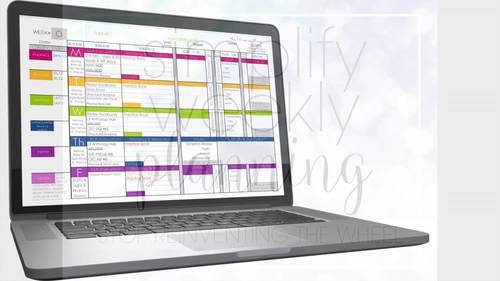 ;
Zip

Google Apps™

Excel Spreadsheets
Includes Google Apps™
The Teacher-Author indicated this resource includes assets from Google Workspace (e.g. docs, slides, etc.).
What educators are saying
This was a terrific planner resource and I am looking forward to using it again in the coming school year.
I use this yearly to organize and have lesson plans! It's perfect! Definitely purchase highly recommend.
Also included in
The Ultimate Weekly Planner™ and The Ultimate Year Planner™ all in one BUNDLE. The Ultimate Teacher Digital/Printable Planning Bundle is truly ULTIMATE in every way! They are: ✨ adaptable✨ customizable✨ completely editableMake your plans suit you - not the other way around! This is a bundle of two T

Price $24.00

Original Price $47.50

Save $23.50
Description
Teacher planners with evenly spaced, non-flexible boxes are simply not helpful. The Ultimate Weekly Planner™ works around each teacher's specific needs. Personalizing your teacher planner is easy, smart, and SUPER effective!
The Ultimate Weekly Planner is a teacher life-saver. I can't imagine teaching without it. Lesson plan template, plan book, digital planner, teacher binder, weekly planning, weekly planner... whatever you call it - The Original Ultimate Weekly Planner™ is the simple, adaptable, customizable, and completely editable plan book answer you're looking for!
Professional, gorgeous, and personal lesson plans are at your fingertips!
The Original Ultimate Weekly Planner™ has been a TPT best seller for many years for some very good reasons.
✅ NO YEARLY FEES
You have full access to all support, updates and, exclusive training videos - with zero fees. The Ultimate Weekly Planner is useable and editable FOREVER! You will never need to purchase another planner.
✅ EFFECTIVE FOR ALL
The Ultimate Weekly Planner™ is used by all sorts of teachers from college professors to pre-school teachers, specials and resource teachers, to homeschool families. The planner system and templates are completely adaptable to any circumstances. (Yes, even that tricky 6-day schedule!)
✅ PRINTABLE & DIGITAL
The Ultimate Weekly Planner is accessible from any device. So, if you don't want to print your plans. You don't have to. You can send your professional plans to resource specialists, teammates, administration, and subs!!
Choose your platform preference! Google Drive links, Excel files, and Numbers files are all included in your download.
✅ SUPPORT
The Ultimate Weekly Teacher Planner comes with detailed step-by-step instructions. and extensive, exclusive videos! The videos provide visual reinforcement and examples of all you can do to get away from the traditional boring boxes that work against you instead of with you!
It won't be long before you realize the benefits of The Ultimate Weekly Planner over those expensive online planners and PowerPoint-based planners and binders.
✅ PERSONALIZE EVERYTHING!
Every part of The Ultimate Weekly Planner can be personalized in all kinds of ways.
There are hundreds of templates to choose from as your starting point. You can edit any one of them to suit your particular needs. EVERYTHING is editable.
Edit to:
• change the number of time blocks
• change the size of the time blocks
• plan vertically or horizontally
• create set templates for 6-(or more) day work weeks
• use any font and colors
• print to 1 page, 2 page or tabloid size
✅ TEACHER BINDER EXTRAS
The extras included with this resource can be pulled into your plan book digitally, printed, and even kept in their own digital file. You can pick and choose which items you want to add to your digital plan book or use them as a printed teacher binder.
Digital stickers
Auto-populate monthly calendar
Birthday Calendar
Class Information / Sub Sheet
Communication Tracker
Notes Tracker
Links & Passwords Keeper
Assorted auto-populated Recording Sheets
Reading Level and Word Tracker
Speed Math Tracker
Homework Tracker
Reading Group Organizer
Small-Group Activity Planner
Common Core Standards Lists for all grades K-12
The extras have already been customized to look beautiful. You can also use your own fonts and clipart to personalize them.
You can also keep your standards on hand for easy reference and access to adding to your plans! ALL K-12 CCSS math and ELA standards are included.
PLUS you can add any other extra you need! There is no limit to your plan book!
✅ CUSTOMIZABLE COVERS
Do you like to keep a printed copy of your plans handy? I've been planning digitally for over 20 years, but I still keep a printed copy on hand. You have to keep those amazing plans and teacher binder pages in a beautiful home, right? There are more than 15 gorgeous customizable planner covers included!
✅ QUICK AND EASY PLANNING
The Ultimate Weekly Teacher Planner makes planning easy and fast! In the resource, I teach you how to customize the most perfect planner for you. Your template will then make planning for the year SO SIMPLE! You'll save tons of time and have a file filled with easily referenced plans - that you can use year after year!
Or, you can start fresh each year - if you like the change! The choice is yours. Forever! You'll never have to purchase another planner because The Ultimate Weekly Planner™ can be what you want it to be, year after year!
Check out The Ultimate Weekly Planner™ video in the previews.
The Ultimate Weekly Planner™ is your teacher planner solution! I'm ready to hold your hand and show you how! Don't be afraid of Excel, Google Sheets or Numbers. They are not as complicated as they look and can do SO much more than PowerPoint!
The Ultimate Weekly Planner™ is available BUNDLED with The Ultimate Year Curriculum Planner™ - The ultimate tool in backward planning and another teacher organization MUST!
SEE MORE ABOUT THE ULTIMATE WEEKLY TEACHER PLANNER ON THIS POST
★ Want a planner customized FOR YOU? See the Customize my Planner add-on! ★
Stop by the website for more resources, ideas, and freebies!
Report this resource to TPT