Teacher Toolbox Labels | Soft Boho Chic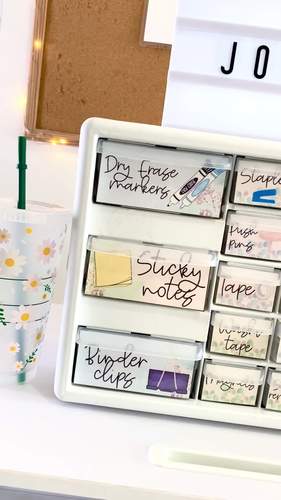 ;
111 labels, PDF & PowerPoint files
Also included in
Decorate your classroom with trendy classroom boho chic decor to create a beautiful classroom! The soft boho chic theme uses calming neutral colours to support a focused productive learning environment. Muted blue, beige and pink colours are combined with plant and eucalyptus elements to promote a s

Price $12.00

Original Price $22.99

Save $10.99
Description
Cute teacher storage idea! These soft boho chic teacher toolbox labels are perfect to help you stay organized with a beautiful toolbox. Easily find exactly what you need with this time saving teacher hack. Your DIY teacher toolbox can be created instantly after you download and print this!
These labels were made for the Akro-Mils 10126 26 Drawer Plastic Parts Storage Hardware and Craft Cabinet, 20-Inch by 10-Inch by 6-1/2-Inch, Black which can be found on Amazon.
This product includes✨
Teacher instructions (with pictures) for printing and making a DIY toolbox
PDF printable version (24 pages)
PowerPoint editable file to customize your printing
111 labels (44 large blue, 44 large pink, 22 small labels) including BLANK labels for you to add your own text
NOTE: Blank templates are included in the PowerPoint file. The font used is not included in your download but you can get it from KA Fonts (linked in your PDF file). The font name is KAGuilty.
Label Size:
Large labels: 4.25"x2"
Small labels: 2"x1.4"
Large Labels:
Sharpies
Flair Pens
Binder Clips
Sticky Notes
Pens
Index Cards
Misc. Items
Highlighters
Pencils
Hole Puncher
Markers
Dry Eraser Markers
Glue Sticks
Paper Clips
Rubber Bands
Liquid Paper
Push Pins
Binder Rings
Bandaids
Washi Tape
Staple Remover
Staples
Erasers
Craft Sticks
Batteries
Clothespins
Pencil Crayons
Stickers
Velcro
Crayons
Stamps
Hot glue sticks
Chalk
Magnets
USB
Mini Post-its
Treats
Pencil Lead
Sticky Flags
Pom poms
Pipe cleaners
Labels
Sticky Tack
Small Labels:
Sticky Notes
Stickers
Erasers
Large Paper Clips
Rubber Bands
Small Paper Clips
Liquid Paper
Push Pins
Tape
Binder Rings
Staple Remover
Washi Tape
Staples
Bandaids
Sticky Tack
Glue Sticks
Magnets
Binder Clips
Misc. Items
USB
Hot glue sticks
Velcro
Push Pins
Save money and get the best value by purchasing the Soft Boho Chic Classroom Decor Kit GROWING BUNDLE | Calming Colours | Editable this is part of.
TEACHER FEEDBACK:
"Love this for organizing my things at my desk! Makes things much simpler"
OTHER POPULAR RESOURCES:
Join my email list for freebies and visit my blog for teaching inspiration and updates.
Connect With Me:
How do I earn TPT credits to save money on my future purchases?
Click on My Purchases and beside each product, you can view whether you have left feedback about a product. Click on Leave a Review underneath the product title and seller.
Please leave a review if you can, I would really appreciate it. Follow me for future products, updates, and sales!
© Kids are the Future
Total Pages
111 labels, PDF & PowerPoint files
Answer Key
Does not apply
Report this resource to TPT