Teaching Ideas For The Speedy Sloth | National Simultaneous Storytime 2023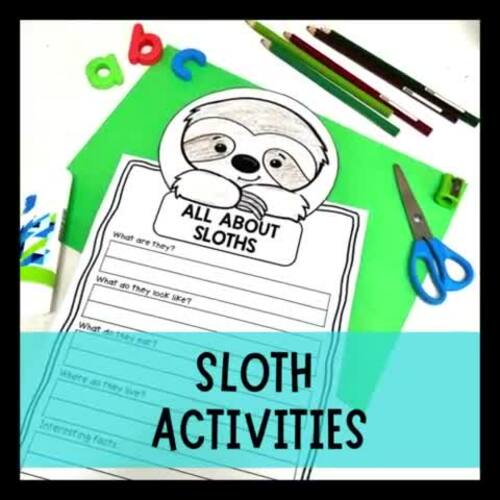 ;
Description
✏️ This resource offers teaching ideas and activities that support the use of "The Speedy Sloth" book in your classroom. This book by Rebecca Young and Heath McKenzie has been selected for the Australian Library and Information Association's National Simultaneous Storytime (NSS) 2023. With these print-and-go worksheets and activities, your students will love exploring the story's themes of perseverance, resilience, having a go, running your own race, and much more.
What's Included?
3 x All About Sloths research activities
Newspaper article planning and publishing worksheets
3 x story maps
KWL chart for sloths
3 x Label the sloth worksheets
2 x can/have/are charts
Sloth Venn diagram
Character traits worksheet
Design a speed suit activity
Design a medal activity
Sloth perseverence colouring activity
PLEASE NOTE
You will need to purchase the book The Speedy Sloth by Rebecca Young and Heath McKenzie to go along with the activities in this resource.
For more great book companion resources check out:
I hope you enjoy this great resource in your classroom! If you do please...
Review my resources to get TPT credit to use on future purchases!
Leave a feedback comment and TPT gives you feedback credits that you use to lower the cost of your future purchases!
Click here to FOLLOW my store!
Tag Me!
Please tag me if you use my worksheets on Instagram! I love hearing about your successes in the classroom. You can find me @mrs.ls.little.learners
— — — — — — — — — — — — — — — — — — — — — — — — — — — — — —
ADDITIONAL INFO
This is a downloadable, digital file that you can access immediately after purchase.
To open the files you will be required to have a PDF Reader such as Adobe Acrobat installed on your computer.
GOT A TECH ISSUE?
If you are having difficulty downloading or opening this resource please ensure you unzip all folders and view each file before getting in touch. To do so: - right click on the zipped folder - and select 'unzip'.
Please check the Teachers Pay Teachers FAQ section if you are experiencing any other tech issues. Please contact support@teacherspayteachers.com
— — — — — — — — — — — — — — — — — — — — — — — — — — — — — —
Report this resource to TPT