Teamwork and Cooperation Lesson | Teamwork in the Math Classroom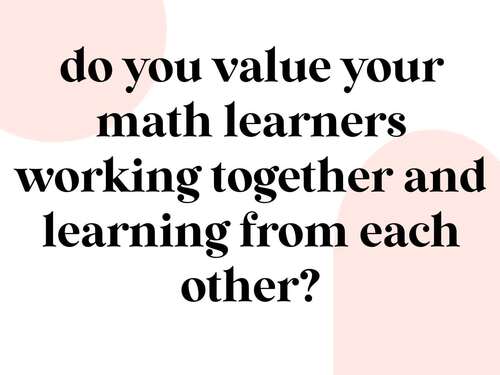 ;
Also included in
Can I just start by saying I am so excited to share this bundle with all of you! It's not complete but I have big plans and it's going to be awesome, promise! *Please note: Not everything is included YET! So far this bundle includes 4 Math-Focused Get to Know You Activities and 4 classroom community

Price $25.50

Original Price $50.50

Save $25.00

This is a bundle of Math-Focused Classroom Community Lessons! *Please note that not all of the lessons are included YET! 4 lessons are included with 2 more coming soon! As well as a BONUS lesson on the Standards of Mathematical Practice. The other lessons will be added very soon!Also, these resource

Price $15.00

Original Price $26.00

Save $11.00
Description
Building a math-focused classroom community is my passion! Build the value of teamwork and working together to learn and grow!

*Please note that this lesson is part of two bundles: a bundle of math-focused classroom community lessons and my Math Love Resource Pack! If you'd like to save some money check those out!

I think it's so important to build the value that working together is important and necessary in the math classroom. It encourages learning from each other, listening to different perspectives, and communication skills. This lesson explores teamwork and working together by completing a team challenge, encouraging student reflection, and collaborating on a bulletin board.

Here's what this lesson includes:
>teacher notes: to help you implement this lesson in your classroom (I've also shared some links to team challenges, collaborative structures, etc)

>teacher slides: to help guide the lesson and discussions
>chart templates: great for tracing and creating charts to use throughout the lesson and display in your classroom
>student reflection page: student reflect on how they will be a great teammate
>teamwork check-in reflection: use this as a formal way to have students reflect on how they're showing teamwork all year long. Use this information to guide how you support and continue to foster this mindset with students.
>coloring sheets: three different unique coloring sheets. Quotes included: "teamwork makes the dream work", "learn together, grow together", and "there's no I in team"
>collaborative bulletin board:
*teamwork makes the dream work message
*letters are only provided in a black outline option on 8.5 x 11 paper. The idea is that students decorate and design the letters to add to the bulletin board
*frames and writing template for students to draw and write about what teamwork looks like to them – the dream in action!

If you have any questions, issues, concerns, or requests please reach out at thehappylittleclassroom@gmail.com! I'm quick to respond and more than happy to help or talk math!

As always, thanks for your support!
Happy Teaching!
Report this resource to TPT